PIB ANALYSIS FOR UPSC CIVIL SERVICES EXAM
G – 20 Summit
Mission Raksha Gyan Shakti
Common Service Centre
Blue Economy
Miniratna / Navratna / Maharatna
1 . G – 20 Summit
PM's Statement prior to attending the G-20 Summit

Syllabus

General Studies 2 – Bilateral, regional and global groupings and agreements involving India and/or affecting India's interests
The G20, or Group of 20, is the main international forum for economic, financial and political cooperation: it addresses the major global challenges and seeks to generate public policies that resolve them.
It is made up of the European Union and 19 countries: Germany, Saudi Arabia, Argentina, Australia, Brazil, Canada, China, South Korea, United States, France, India, Indonesia, Italy, Japan, Mexico, United Kingdom, Russia, South Africa and Turkey.
Origin
The G20 began as a forum of finance ministers and central bank presidents. It was created on September 25, 1999 at a meeting of finance ministers of the G7, who saw the need for a more inclusive group that generates a greater impact.
In 2008, during the international financial crisis, the world saw the need to generate new consensus among the highest ranking officials. From then on, the G20 summits also began to include meetings at the level of heads of State and Government, and the thematic agenda was expanded.
Impact
Together, the G20 members represent 85% of the global gross product, two thirds of the world population and 75% of international trade.
In addition, the G20 debates are enriched by the participation of international partner organizations, invited countries and affinity groups, representing different sectors of civil society.
Troika
The presidency of the G20 rotates annually between the group's 19 member countries.
As the G20 has no headquarters or permanent staff, the country which holds the G20 presidency hosts the meetings and plays a leading role in setting the agenda and building consensus among members.
Every year, when a new country takes on the presidency (in this case Argentina), it works hand-in-hand with the previous presidency (in this case Germany) and the following presidency (Japan) in what is collectively known as the troika. This is to ensure the consistency and continuity of the group's agenda.
2018 Summit –ARGENTINA 2018: "BUILDING CONSENSUS FOR FAIR AND SUSTAINABLE DEVELOPMENT"
2018 Summit will be held in Buenos Aires Argentina
The Buenos Aires meeting is taking place 10 years after the first G20 Leaders' Summit in Washington, D.C., when heads of State and Government from around the world put together an action plan to address the 2008 financial crisis.
2 . Mission Raksha Gyan Shakti
Raksha Mantri Launches 'Mission Raksha Gyan Shakti'

Syllabus

General Studies 2 – Government policies and interventions for development in various sectors and issues arising out of their design and implementation.
General Studies 3 – Various Security forces and agencies and their mandate.
About Mission Raksha Gyan Shakti
Department of Defence Production has instituted a new framework titled 'Mission Raksha GyanShakti' which aims to provide a boost to the IPR culture in indigenous defence industry.
The Directorate General of Quality Assurance (DGQA) has been entrusted with the responsibility of coordinating and implementing the programme.
The event brought out that the end objective of 'Mission Raksha Gyan Shakti' is to inculcate IP culture in Indian defence manufacturing ecosystem.
Purpose of the Mission
Purpose of this mission is to increase self-reliance by reducing the transfer of technology and dependence on foreign companies for the technologies
About the Release
The event showcased salient inventions and innovations achieved by Defence Research and Development Organisation (DRDO), Defence Public Sector Undertakings (DPSUs) and Ordnance Factories (OFs) which have resulted in successful filing of Intellectual Property Right (IPR) applications
The IPR has emerged as a key ingredient of an ecosystem which stimulates innovation and ingenuity.
An IP Facilitation Cell was established in April this year which has worked tirelessly to achieve ambitious targets of training 10,000 personnel of OFB and DPSUs on IPR and to facilitate filing of at least 1,000 new IPR applications.
3 . Common Service Centre
CSC to Play Role in Shaping New India

Syllabus

General Studies 2 – Important aspects of governance, transparency and accountability, e-governance- applications, models, successes, limitations, and potential; citizens charters, transparency & accountability and institutional and other measures.
About Common Service Centre
Common Services Centre (CSC) programme is an initiative of the Ministry of Electronics & IT (MeitY), Government of India. CSCs are the access points for delivery of various electronic services to villages in India, thereby contributing to a digitally and financially inclusive society.
CSCs are more than service delivery points in rural India. They are positioned as change agents, promoting rural entrepreneurship and building rural capacities and livelihoods. They are enablers of community participation and collective action for engendering social change through a bottom-up approach with key focus on the rural citizen.
CSC e-Governance Services India Limited is a Special Purpose Vehicle (CSC SPV) incorporated under the Companies Act, 1956 by the Ministry of Electronics and Information Technology (MeitY), Government of India, to monitor the implementation of the Common Services Centers Scheme. It provides a centralized collaborative framework for delivery of services to citizens through CSCs, besides ensuring systemic viability and sustainability of the scheme.
Services Offered
The CSCs would provide high quality and cost-effective video, voice and data content and services, in the areas of e-governance, education, health, telemedicine, entertainment as well as other private services.
A highlight of the CSCs is that it will offer web-enabled e-governance services in rural areas, including application forms, certificates, and utility payments such as electricity, telephone and water bills. In addition to the universe of G2C services, a wide variety of content and services that are offered are:
Agriculture Services (Agriculture, Horticulture, Sericulture, Animal Husbandry, Fisheries, Veterinary)
Education & Training Services (School, College, Vocational Education, Employment, etc.)
Health Services (Telemedicine, Health Check-ups, Medicines)
Rural Banking & Insurance Services (Micro-credit, Loans, Insurance)
Entertainment Services (Movies, Television)
Utility Services (Bill Payments, Online bookings)
Commercial Services (DTP, Printing, Internet Browsing, Village level BPO).
CSC 2.0 Scheme
CSC 2.0 is a service delivery oriented entrepreneurship model with a large bouquet of services made available for the citizens through optimum utilization of infrastructure already created in the form of SWAN, SSDG, e-District, SDC, and NOFN/BharatNet.
4 . Blue Economy
Shri Gadkari says, India endorses the growth of Blue Economy in a sustainable, inclusive and people-centric manner
He will address the Sustainable Blue Economy Conference in Nairobi tomorrow

Syllabus

General Studies 1 – Distribution of key natural resources across the world (including South Asia and the Indian subcontinent); factors responsible for the location of primary, secondary, and tertiary sector industries in various parts of the world (including India).

General Studies 3 – Infrastructure -Ports
What is Blue Economy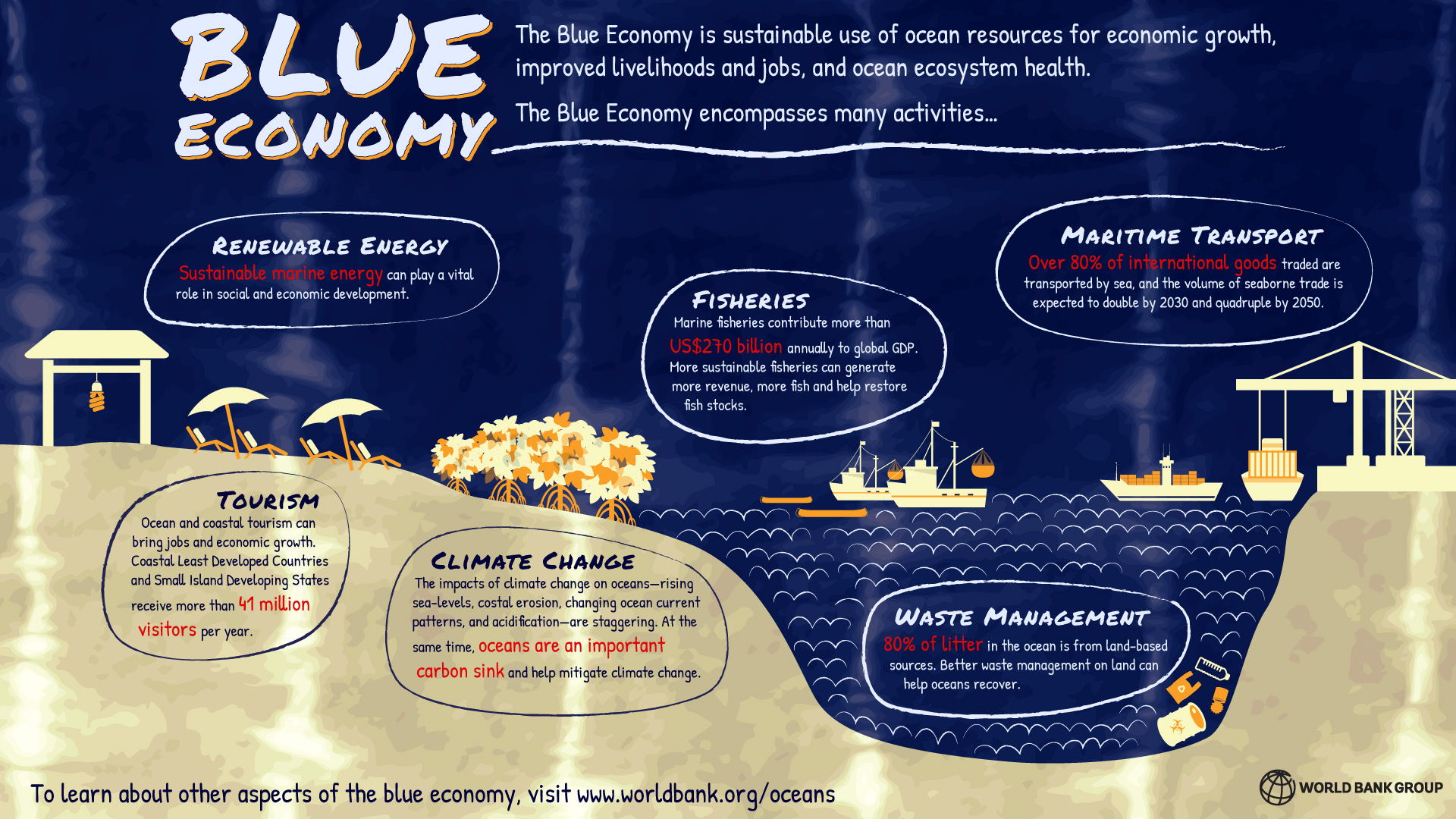 5 . Miniratna / Navratna / Maharatna
NPCC is now a Miniratna
Also gets ISO 9001:2015 certification
Criteria for grant of Miniratna status
The CPSEs which have made profits in the last three years continuously and have positive net worth are eligible to be considered for grant of Miniratna status.
Presently, there are 7 Maharatna, 16 Navratna and 71 Miniratna CPSEs.
Criteria for grant of Navratna status
The Miniratna Category – I and Schedule 'A' CPSEs, which have obtained 'excellent' or 'very good' rating under the Memorandum of Understanding system in three of the last five years, and have composite score of 60 or above in the six selected performance parameters, namely,
net profit to net worth
manpower cost to total cost of production/services
profit before depreciation, interest and taxes to capital employed
profit before interest and taxes to turnover
earning per share
inter-sectoral performance.
Criteria for grant of Maharatna status
The CPSEs fulfilling the following criteria are eligible to be considered for grant of Maharatna status.
Having Navratna status.
Listed on Indian stock exchange with minimum prescribed public shareholding under SEBI regulations.
Average annual turnover of more than Rs. 25,000 crore, during the last 3 years.
Average annual net worth of more than Rs. 15,000 crore, during the last 3 years.
Average annual net profit after tax of more than Rs. 5,000 crore, during the last 3 years.
Should have significant global presence/international operations.