Daily Current Affairs for UPSC CSE
Topics Covered
Defamation
Hydrogen Fuel Cell
The Information Technology (Intermediary Guidelines and Digital Media Ethics Code) Rules, 2021
Facts for Prelims
---
1 . Defamation
---
Context : In a setback to former Congress President Rahul Gandhi, the Gujarat High Court on July 7 declined to stay his conviction in a criminal defamation case in which he was sentenced to two years in jail by a Surat court.
What is criminal defamation?
Section 499 IPC deals with the criminal defamation
Section 499 of the IPC,1860 defines 'defamation' as being committed:

i. Through: (i) words (spoken or intended to be read), (ii) signs, or (iii) visible representations;
ii. Which: are published or spoken imputation concerning any person;
iii. If the imputation is spoken or published with: (i) the intention of causing harm to the reputation of the person to whom it pertains, or (ii) knowledge or reason to believe that the imputation will harm the reputation of the person to whom it pertains will be harmed.

This definition is subject to four explanations and ten exceptions. If a person is found guilty of having committed defamation in terms of Sec. 499 of the IPC, the punishment is stipulated in Sec. 500, simple imprisonment for up to two years or fine or with both.
The Cr PC, 1973, which lays down the procedural aspects of the law, states that the offence is non-cognizable and bailable.
Constitutionality of Criminal Defamation
The apex court's judgement in Subramanian Swamy v. Union of India which was delivered on May 13, 2016, put a rest on the speculation of defamation being decriminalised when the constitutionality of the contended provisions were upheld.
Petition: Subramanian Swamy filed a writ petition regarding the decriminalization of defamation. The two basic contentions of the seven issues raised in the writ petition Swamy were:

i. Declaring Sec. 499 and 500 of the Indian Penal Code, 1860 as unconstitutional
ii. Declaring Sec. 199(2) of the Code of Criminal Procedure, 1973 (Cr PC) as unconstitutional.

Judgement: The division bench comprising of Dipak Mishra and Prafulla C. Pant JJ, wherein J. Mishra delivered the judgement, upholding the constitutional validity of Sec. 499, 500 of IPC, 1860 and 199 of Cr PC, 1973, pronounced that-"It is not necessary for all in the chorus to sing the same song. A magistrate should be extremely careful in issuing summons on a plea for the initiation of any criminal defamation case."
Disqualification of a law makers 
Disqualification of a lawmaker is prescribed in three situations.

First is through the Articles 102(1) and 191(1) for disqualification of a member of Parliament and a member of the Legislative Assembly respectively. The grounds here include holding an office of profit, being of unsound mind or insolvent or not having valid citizenship.
The second prescription of disqualification is in the Tenth Schedule of the Constitution, which provides for the disqualification of the members on grounds of defection.
The third prescription is under The Representation of The People Act (RPA), 1951. This law provides for disqualification for conviction in criminal cases.
Disqualification Under Representation of people's Act? 
There are several provisions that deal with disqualification under the RPA. Section 9 deals with disqualification for dismissal for corruption or disloyalty, and for entering into government contracts while being a lawmaker. Section 10 deals with disqualification for failure to lodge an account of election expenses. A key provision, Section 11, deals with disqualification for corrupt practices.
Section 8 of the RPA deals with disqualification for conviction of offences. The provision is aimed at "preventing criminalisation of politics" and keeping 'tainted' lawmakers from contesting elections.
Section 8 of the Representation of People's Act 
Section 8 (1) – Disqualification is triggered for conviction under certain offences listed in Section 8(1) of The Representation of The People Act. This includes specific offences such as promoting enmity between two groups, bribery, and undue influence or personation at an election.
Section 8(2) also lists offences that deal with hoarding or profiteering, adulteration of food or drugs and for conviction and sentence of at least six months for an offence under any provisions of the Dowry Prohibition Act.
Section 8(3) states: "A person convicted of any offence and sentenced to imprisonment for not less than two years shall be disqualified from the date of such conviction and shall continue to be disqualified for a further period of six years since his release."
Under the RPA, Section 8(4) ( Struck down by SC) stated that the disqualification takes effect only "after three months have elapsed" from the date of conviction. Within that period, lawmakers could file an appeal against the sentence before the High Court. However, in the landmark 2013 ruling in 'Lily Thomas v Union of India', the Supreme Court struck down Section 8(4) of the RPA as unconstitutional.
What is next step? 
The disqualification can be reversed if a higher court grants a stay on the conviction or decides the appeal in favour of the convicted lawmaker.
In a 2018 decision in 'Lok Prahari v Union of India', the Supreme Court clarified that the disqualification "will not operate from the date of the stay of conviction by the appellate court."
Significantly, the stay cannot merely be a suspension of sentence under Section 389 of the Code of Criminal Procedure (CrPC), but a stay of conviction. Under Section 389 of the CrPC, an Appellate Court can suspend the sentence of a convict while the appeal is pending. This is akin to releasing the appellant on bail. 
---
2 . Hydrogen Fuel Cell
---
Context : Hydrogen fuel-cell buses likely to be tested in Delhi later this year
About Fuel Cell Electric Vehicles
Fuel cell electric vehicles (FCEVs) are powered by hydrogen. They are more efficient than conventional internal combustion engine vehicles and produce no tailpipe emissions—they only emit water vapor and warm air.
FCEVs use a propulsion system similar to that of electric vehicles, where energy stored as hydrogen is converted to electricity by the fuel cell. Unlike conventional internal combustion engine vehicles, these vehicles produce no harmful tailpipe emissions.
How Fuel Cells Work
The most common type of fuel cell for vehicle applications is the polymer electrolyte membrane (PEM) fuel cell.
In a PEM fuel cell, an electrolyte membrane is sandwiched between a positive electrode (cathode) and a negative electrode (anode). Hydrogen is introduced to the anode, and oxygen (from air) is introduced to the cathode. The hydrogen molecules break apart into protons and electrons due to an electrochemical reaction in the fuel cell catalyst. Protons then travel through the membrane to the cathode.
The electrons are forced to travel through an external circuit to perform work (providing power to the electric car) then recombine with the protons on the cathode side where the protons, electrons, and oxygen molecules combine to form water.
Put simply, the fuel cell combines hydrogen and oxygen to generate an electric current, water being the only byproduct.
Like conventional batteries under the bonnets of automobiles, hydrogen fuel cells too convert chemical energy into electrical energy. From a long-term viability perspective, FCEVs are billed as vehicles of the future, given that hydrogen is the most abundant resource in the universe.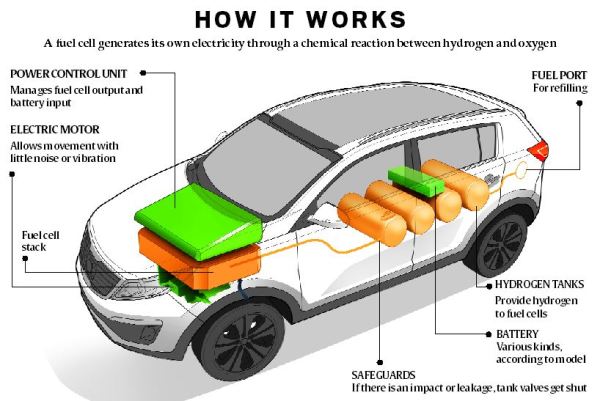 So is an FCEV a conventional vehicle or an electric vehicle (EV)?
While the fuel cells generate electricity through an electrochemical process, unlike a battery-electricity vehicle, it does not store energy and, instead, relies on a constant supply of fuel and oxygen — in the same way that an internal combustion engine relies on a constant supply of petrol or diesel, and oxygen. In that sense, it may be seen as being similar to a conventional internal combustion engine.
But unlike the combustion engine cars, there are no moving parts in the fuel cell, so they are more efficient and reliable by comparison. Also, there is no combustion onboard, in the conventional sense.
Globally, EVs are bracketed under three broad categories:

BEVs such as the Nissan Leaf or Tesla Model S, which have no internal combustion engine or fuel tank, and run on a fully electric drivetrain powered by rechargeable batteries.
Conventional hybrid electric vehicles or HEVs such as the Toyota Camry sold in the country combine a conventional internal combustion engine system with an electric propulsion system, resulting in a hybrid vehicle drivetrain that substantially reduces fuel use. The onboard battery in a conventional hybrid is charged when the IC engine is powering the drivetrain.
Plug-in hybrid vehicles or PHEVs, such as the Chevrolet Volt, too have a hybrid drivetrain that uses both an internal combustion engine and electric power for motive power, backed by rechargeable batteries that can be plugged into a power source.
FCEVs are widely considered to be the next frontier in EV technology. FCEVs such as Toyota's Mirai and Honda's Clarity use hydrogen to power an onboard electric motor. Since they are powered entirely by electricity, FCEVs are considered EVs — but unlike BEVs, their range and refuelling processes are comparable to conventional cars and trucks.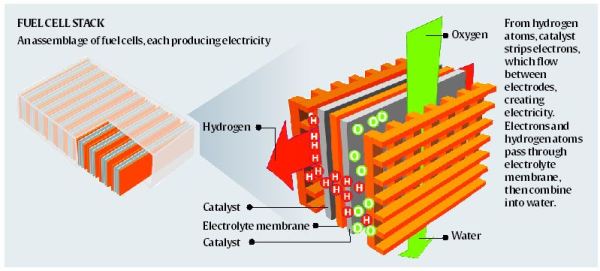 Uses of the technology
The hydrogen fuel cell vehicle market is dominated by Japan's Toyota and Honda, alongside South Korea's Hyundai. While the successful development of hydrogen would provide energy for transportation and electric power, an advantage is the wide availability of resources for producing hydrogen.
Japan's Ministry of Economy, Trade and Industry (METI) published a 'Strategic Roadmap for Hydrogen and Fuel Cells' in 2014, with a revised update in March 2016, with a goal to achieve a hydrogen society. Stationary fuel cells — the largest, most powerful fuel cells — are being designed to provide a cleaner, reliable source of on-site power to hospitals, banks, airports and homes. A fuel cell continues to produce energy as long as fuel and oxidant are supplied. Portable fuel cells could find other applications beyond vehicles.
What are the advantages and disadvantages of fuel cells?
Fuel cells have strong advantages over conventional combustion-based technologies currently used in many power plants and cars, given that they produce much smaller quantities of greenhouse gases and none of the air pollutants that cause health problems. Also, if pure hydrogen is used, fuel cells emit only heat and water as a byproduct. Such cells are also far more energy efficient than traditional combustion technologies.
Unlike battery-powered electric vehicles, fuel cell vehicles do not need to be plugged in, and most models exceed 300 km of range on a full tank. They are filled up with a nozzle, just like in a petrol or diesel station.
Disadvantages
While FCEVs do not generate gases that contribute to global warming, the process of making hydrogen needs energy — often from fossil fuel sources. That has raised questions over hydrogen's green credentials.
Also, there are questions of safety — hydrogen is more explosive than petrol. Opponents of the technology cite the case of the hydrogen-filled Hindenburg airship in 1937. But Japanese auto industry players argued that a comparison was misplaced because most of the fire was attributed to diesel fuel for the airship's engines and a flammable lacquer coating on the outside.
The other major hurdle is that the vehicles are expensive, and fuel dispensing pumps are scarce. But this should get better as scale and distribution improves.
---
3 . The Information Technology (Intermediary Guidelines and Digital Media Ethics Code) Rules, 2021
---
Context : The Bombay High Court on Friday said words such as "fake, false and misleading" that are part of the new Information Technology (IT) Rules are "problematic".
About the case
A Division Bench of justices Gautam Patel and Neela Gokhale was hearing a bunch of petitions filed by political satirist Kunal Kamra, the Editors Guild of India and the Association of Indian Magazine and regional channels challenging the constitutional validity of the IT (Intermediary Guidelines and Digital Media Ethics Code) Amendment Rules, 2023.
The new Rules require social media intermediaries to censor or otherwise modify content that relates to the Central government if a government-mandated fact-checking unit (FCU) directs them to do so.
What is The Information Technology (Intermediary Guidelines and Digital Media Ethics Code) Rules, 2021?
The Information Technology (Intermediary Guidelines and Digital Media Ethics Code) Rules, 2021 were notified on February 25, 2021, to replace the IT (Intermediary Guidelines) Rules, 2011 which were framed under the IT Act.
This rule contains the details regarding the due diligence requirements for certain social media intermediaries, and a framework for regulating the content of online publishers of news and current affairs, and curated audio-visual content.
Under this Rule, all intermediaries are required to provide a grievance redressal mechanism for resolving complaints from users or victims. A three-tier grievance redressal mechanism with varying levels of self-regulation has been prescribed for publishers.
What are the amendments made in the (Intermediary Guidelines and Digital Media Ethics Code) Rules, 2021?
Regarding Online Gaming Industry– As per the amended rules, it has been made obligatory on the part of intermediaries to make reasonable effort to not host, publish or share any online game that can cause the user harm, or that has not been verified as a permissible online game by an online gaming self-regulatory body/body designated by the Central Government. The intermediary will also have to ensure that no advertisement or surrogate advertisement or promotion of an online game that is not a permissible online game, is hosted on its platform.

The self-regulatory body will have the authority to inquire and satisfy itself that the online game does not involve wagering on any outcome, that the online gaming intermediary and the game complies with the rules, the requirements under law for being competent to enter into a contract (currently at 18 years), and a framework made by the self-regulatory body regarding safeguards against user harm, including psychological harm, measures to safeguard through parental controls, age-rating mechanism, and measures to safeguard users against the risk of gaming addiction.
The amended rules also cast additional obligations on online gaming intermediaries in relation to online games involving real money.
If in case the Central Government issues a notification in the interest of users or other specified grounds, the same rules and obligations will be made applicable to even those games where the user is not required to make any deposit for winnings
The Government may notify multiple self-regulatory bodies, which shall be representative of online gaming industry
The rules provide for the obligations to become applicable once sufficient number of self-regulatory bodies have been designated.

Regarding Fake News- The amended rules now also make it obligatory on the intermediaries to not to publish, share or host fake, false or misleading information in respect of any business of the Central Government. These fake, false or misleading information will identified by the notified Fact Check Unit of the Central Government. It is to be noted that the existing IT rules already required the intermediaries to make reasonable efforts to not host, publish or share any information which is patently false and untrue or misleading in nature.
The rules already cast an obligation on intermediaries to make reasonable efforts to not host, publish or share any information which is patently false and untrue or misleading in nature.
---
4 . Facts for Prelims
---
Cluster munition
A cluster munition is a bomb that opens in the air and releases smaller "bomblets" across a wide area. The bomblets are designed to take out tanks and equipment, as well as troops, hitting multiple targets at the same time.
The munitions are launched by the same artillery weapons that the US and allies have already provided to Ukraine for the war — such as howitzers — and the type of cluster munition that the US is planning to send is based on a common 155 mm shell that is already widely in use across the battlefield.
In previous conflicts, cluster munitions have had a high dud rate, which meant that thousands of the smaller unexploded bomblets remained behind and killed and maimed people decades later. The US last used its cluster munitions in battle in Iraq in 2003, and decided not to continue using them as the conflict shifted to more urban environments with more dense civilian populations.
VPN
VPN stands for "Virtual Private Network" and describes the opportunity to establish a protected network connection when using public networks. VPNs encrypt your internet traffic and disguise your online identity. This makes it more difficult for third parties to track your activities online and steal data. The encryption takes place in real time.
A VPN hides your IP address by letting the network redirect it through a specially configured remote server run by a VPN host. This means that if you surf online with a VPN, the VPN server becomes the source of your data. This means your Internet Service Provider (ISP) and other third parties cannot see which websites you visit or what data you send and receive online. A VPN works like a filter that turns all your data into "gibberish". Even if someone were to get their hands on your data, it would be useless.