Daily Current Affairs for UPSC CSE
Topics Covered
Anti Satellite Missile
Electoral Bonds
Facts for Prelims and Mains
1 . Anti Satellite Missile
Context : India successfully conducted an Anti-Satellite (ASAT) missile test, named Mission Shakti, becoming the fourth country in the world to demonstrate the capability to shoot down satellites in orbit. So far, only the United States, Russia and China have this prowess.
What is Mission Shakti
Codenamed 'Mission Shakti' the Anti-Satellite Missile System (ASAT) destroyed a Low Earth Orbit Satellite that was launched by ISRO on January 24 earlier this year.
Mission is jointly undertaken by ISRO and DRDO
What is an anti-satellite missile test?
Anti-satellite weapons provide the capability to shoot down enemy satellites in orbit
It is the technological capability to hit and destroy satellites in space through missiles launched from the ground.
Early Wednesday, scientists and engineers at Defence Research and Development Organisation (DRDO) launched a missile from the Dr A P J Abdul Kalam Island launch complex near Balasore in Odisha that struck a predetermined target: a redundant Indian satellite that was orbiting at a distance of 300 km from the Earth's surface.

The satellite downed by the ASAT missile was Microsat-R, an imaging satellite which was launched into orbit on January 24, 2019 using a Polar Satellite Launch Vehicle (PSLV)
Benefits
The technology is aimed at destroying, if necessary, satellites owned by enemy countries.
Satellites are extremely critical infrastructure of any country these days. A large number of crucial applications are now satellite-based. These include navigation systems, communication networks, broadcasting, banking systems, stock markets, weather forecasting, disaster management, land and ocean mapping and monitoring tools, and military applications.
Destroying a satellite would render these applications useless. It can cripple enemy infrastructure, and bring it down on knees, without causing any threat to human lives
Other countries having the Anti Satellite missile
There are many countries which have this capability, but only four countries — including India — have demonstrated their ASAT capabilities.
The US first tested ASAT technology in 1958,
The USSR followed in 1964
China in 2007.
In 2015, Russia tested its PL-19 Nudol missile and followed it up with other tests.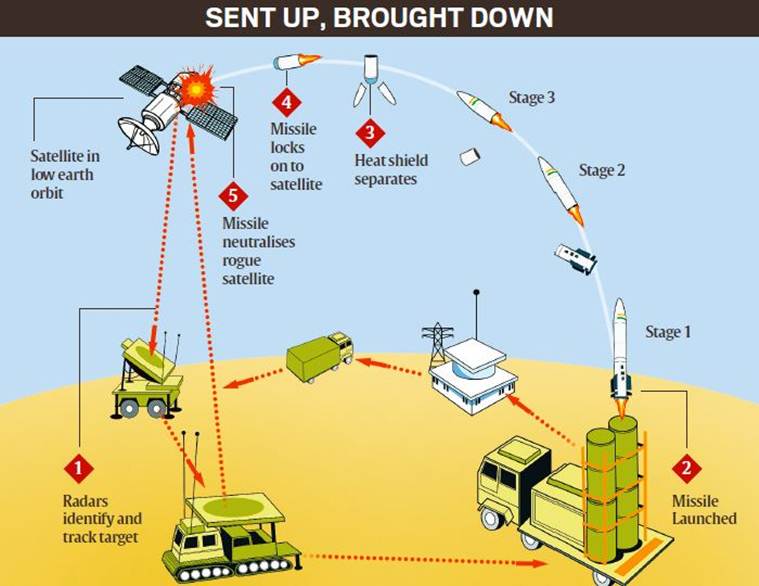 Outer Space Treaty of 1967
There are international treaties governing the use of space, that mandate that outer space, and celestial bodies like the Moon, must only be exploited for peaceful purposes.
Outer Space Treaty of 1967, to which India is a signatory, prohibits countries from placing into orbit around the Earth "any objects carrying nuclear weapons or any other kinds of weapons of mass destruction". It also prohibits the stationing of such weapons on celestial bodies, like the moon, or in outer space. The moon and other celestial bodies shall be used by all state parties to the treaty exclusively for peaceful purposes
There are international treaties governing the use of space, that mandate that outer space, and celestial bodies like the Moon, must only be exploited for peaceful purposes.
Concerns on testing Anti Satellite Missile Weapons
A satellite that is destroyed by a missile disintegrates into small pieces, and adds to the space debris. The threat from the space debris is that it could collide with the operational satellites and render them dysfunctional. According to the ESA, space debris is one of the principal threats to satellites.
When China carried out its first anti-satellite missile test in 2007, destroying its Fengyun-1C weather satellite, it created more than 2,300 large pieces of space debris, and an estimated 1.5 lakh pieces of objects that were larger than 1 cm in size. Each of them could render a satellite useless on collision.
India's Argument regarding Space debris
The Ministry of External Affairs, in its statement Wednesday, said the Indian test was done in the lower atmosphere to ensure that there was no space debris.
Whatever debris that is generated will decay and fall back on to the earth within weeks
Is this the only way to target enemy satellites?
In the last few years, countries have explored alternative options of making enemy satellites dysfunctional, options which do not involve direct destruction of the target or creation of the debris.
Technologies have been developed to jam the communication from the satellites by interfering with its radio signals. This can be attempted during the uplink or the downlink.
Another option that has been explored is the possibility of sending satellites that could just approach a target close enough to deviate it from its selected orbit, without destroying it. Several countries and organisations including China, Japan, Russia and the European Space Agency are said to be working on developing these 'close proximity' anti-satellite technologies.
The third option is the possible use of ground-based lasers to 'dazzle' the sensors of the satellites and make them at least "partially blind" so that they are unable to work efficiently.
None of these technologies is mature enough to be deployed or tested.

2 . Electoral Bonds
Context : The Election Commission of India (ECI) has told the Supreme Court that electoral bonds, contrary to government claims, wreck transparency in political funding.
Concerns raised by ECI
Coupled with the removal of cap on foreign funding, they invite foreign corporate powers to impact Indian politics
The ECI also raised concerns regarding the amendments made to various key statutes through the two consecutive Finance Acts of 2016 and 2017.
These amendments would pump in black money for political funding through shell companies and allow "unchecked foreign funding of political parties in India which could lead to Indian politics being influenced by foreign companies.
Warned govt regarding serious repercussions/impact on the transparency of political finance/funding of political parties.
"The Election Commission of India has time and again voiced the importance of declaration of donations received by political parties and also about the manner in which those funds are expended by them for better transparency and accountability in the election process,"
The amendments virtually derailed ECI guidelines of August 29, 2014, requiring parties to file reports on contributions received.
Amendments to the Finance Act 2017
The Finance Act of 2017 amends various laws, including the Representation of the People (RP) Act of 1951, the Income Tax Act and the Companies Act. The Finance Act of 2016 makes changes in the Foreign Contribution (Regulation) Act of 2010.
The amendment to the RP Act allows political parties to skip recording donations received by them through electoral bonds in their contribution reports to the ECI. This is a retrograde step as far as transparency of donations is concerned as the poll commission has no way to ascertain whether the donations were received legally by the political party from government companies or foreign sources.
The ECI said the amendment introduced by the government in the Income Tax Act allows anonymous donations. Donors to political parties need not provide their names, address or PAN if they have contributed less than Rs. 20,000. Now, "many political parties have been reporting a major portion of the donations received as being less than the prescribed limit of Rs. 20,000
Amendments to the Finance Act 2016
The ECI extends its critique to the Finance Act of 2016, highlighting how it had amended the FCRA 2010 to "allow donations to be received from foreign companies having majority stake in Indian companies.
The amendment in the Companies Act "opens up the possibility of shell companies being set up for the sole purpose of making donations to political parties.
About Electoral Bond Scheme
3 . Facts for Prelims & Mains
Turing award
Given by the Association for Computing Machinery (ACM), the A M Turing Award carries $1 million as prize money.
As described on the ACM website, it is "for major contributions of lasting importance to computing". First awarded in 1966, it has been awarded annually for 53 years so far to 70 recipients. These include 3 women, the first of these having won in 2006.
The award is named after British mathematician and computer scientist Alan Mathison Turing (1912-54), whose work in codebreaking is credited with having played a decisive role in World War II.
He led a British team that worked out a way to decrypt intercepted messages, which had been encrypted on Enigma machines developed by the Germans.
Apart from the award, the Turing machine, used in computing, is named after the pioneer who is considered the father of theoretical computer science and artificial intelligence.
Tribunal
Chief Justice of India Ranjan Gogoi on Wednesday said the numerous tribunals, once meant to lighten the burden of high courts across the country, have now become virtually non-functional, crippled by a chronic lack of infrastructure, manpower and an irregular appointment mechanism.
Gold Schemes
The Centre's recent ordinance banning unregulated monthly deposit schemes will not affect the ongoing monthly schemes operated by jewellery and chit fund firms
About unregulated Deposit Schemes covered under February 6th Current Affairs