Daily Current Affairs for UPSC CSE
Topics Covered
Chief of Defence Staff
Atal Tunnel
Article 142
IMF on India
Report on Trend and Progress of Banking in India
Run through File Mechanism
Locust invasion
Atal Bhujal
Sanskrit Inscription
Good Governance Index
Brahmos
Millimeter Spectrum
Climate Change and Disaster
Overseas Citizen of India
Reasons for increase in cold
Facts for Prelims
---
1 . Chief of Defence Staff
---
Context :- Union Cabinet has approved to create the post of Chief of Defence Staff in the rank of a four-star General with salary and perquisites equivalent to a Service Chief. The Chief of Defence Staff will also head the Department of Military Affairs (DMA), to be created within the Ministry of Defence and function as its Secretary.
Background
The proposal for a CDS was first made by the K. Subrahmanyam committee appointed after the Kargil conflict of 1999 to recommend higher military reforms. However, lack of consensus and apprehensions among services meant it never moved forward.
In 2012, the Naresh Chandra committee recommended the appointment of a Permanent Chairman of Chiefs of Staff Committee (COSC) as a midway to allay apprehensions over the CDS.
The CDS is also one of the 99 recommendations made by the Lt General D.B. Shekatkar (retd) Committee which submitted its report in December 2016 which had 34 recommendations pertaining to the tri-services.
About Chief of Defence Staff (CDS)
The CDS will be in the rank of a four-star General with salary and perquisites equivalent to a Service Chief.
He will also head the Department of Military Affairs (DMA), to be created within the Ministry of Defence and function as its Secretary.
The Chief of Defence Staff, apart from being the head of the Department of Military Affairs, will also be the Permanent Chairman of the Chiefs of Staff Committee.
He will act as the Principal Military Adviser to Raksha Mantri on all tri-Services matters.
The three Chiefs will continue to advise RM on matters exclusively concerning their respective Services.
CDS will not exercise any military command, including over the three Service Chiefs, so as to be able to provide impartial advice to the political leadership.
Areas under CDS
The following areas will be under the Department of Military Affairs headed by CDS:
The Armed Forces of the Union-the Army, the Navy and the Air Force.
Integrated Headquarters of the Ministry of Defence comprising
Army Headquarters, Naval Headquarters, Air Headquarters and Defence Staff Headquarters.
The Territorial Army.
Works relating to the Army, the Navy and the Air Force.
Procurement exclusive to the Services except capital acquisitions, as per prevalent rules and procedures.
Apart from the above, the mandate of the Department of Military Affairs will include the following areas:
Promoting jointness in procurement, training and staffing for the Services through joint planning and integration of their requirements.
Facilitation of restructuring of Military Commands for optimal utilisation of resources by bringing about jointness in operations, including through establishment of joint/theatre commands.
Promoting use of indigenous equipment by the Services.
Working
As the Permanent Chairman of Chiefs of Staff Committee, CDS will perform the following workings:
CDS will administer tri-services organisations. Tri-service agencies/organisations/commands related to Cyber and Space will be under the command of the CDS.
CDS will be member of Defence Acquisition Council chaired by Raksha Mantri and Defence Planning Committee chaired by NSA.
Function as the Military Adviser to the Nuclear Command Authority.
Bring about jointness in operation, logistics, transport, training, support services, communications, repairs and maintenance, etc of the three Services, within three years of the first CDS assuming office.
Ensure optimal utilisation of infrastructure and rationalise it through jointness among the services.
Implement Five-Year Defence Capital Acquisition Plan (DCAP), and Two-Year roll-on Annual Acquisition Plans (AAP), as a follow up of Integrated Capability Development Plan (ICDP).
Assign inter-Services prioritisation to capital acquisition proposals based on the anticipated budget.
Bring about reforms in the functioning of three Services aimed at augmenting combat capabilities of the Armed Forces by reducing wasteful expenditure.
Importance
It is expected that this reform in the Higher Defence Management would enable the Armed Forces to implement coordinated defence doctrines and procedures and go a long way in fostering jointmanship among the three Services.
The country would be benefitted by coordinated action on greater jointmanship in training, logistics and operations as well as for prioritisation of procurements.
---
2 . Atal Tunnel
---
Context : The Union Cabinet has decided to name the Rohtang Tunnel under Rohtang Pass after former Prime Minister Atal Bihari Vajpayee.
About Atal Tunnel
The historic decision to construct a strategic tunnel below the Rohtang Pass was taken by former Prime Minister Atal Bihari Vajpayee.
It is a highway tunnel being built under the Rohtang pass in the eastern Pir Panjal range of the Himalayas on the Leh-Manali highway. 
At 8.8 km length, the tunnel will be one of the longest road tunnels in India
It will reduce the distance between Manali and Leh by 46 kilometres and save crores of rupees in transport costs.
The tunnel is at an elevation of 3,100 metres whereas the Rohtang Pass is at an elevation of 3,978 metres.
It is a 10.5-metre wide single tube bi-lane tunnel with a fire proof emergency tunnel built into the main tunnel itself. The breakthrough from both ends was achieved on October 15, 2017.
The Border Roads Organisation (BRO) worked relentlessly to overcome major geological, terrain and weather challenges that included the most difficult stretch of the 587-metre Seri Nalah Fault Zone.
Importance
Tunnel will provide all weather connectivity to remote border areas of Himachal Pradesh and Ladakh which otherwise remained cut off from the rest of the country for about six months during winters.
It's vital to feed military supplies into military sub-sector in the west facing Aksai Chin and the Siachen Glacier.
---
3 . Article 142 of the Constitution
---
Context : A Bench of Justices S.K. Kaul and K.M. Joseph said the ground of "irretrievable breakdown of marriage" was yet to be recognised by the divorce law. Hence the court had to resort to its extraordinary powers under Article 142 of the Constitution to dissolve irreparable marriages.
About Article 142
Article 142 (1) states that "The Supreme Court in the exercise of its jurisdiction may pass such decree or make such order as is necessary for doing complete justice in any cause or matter pending before it, and any decree so passed or order so made shall be enforceable throughout the territory of India in such manner as may be prescribed by or under any law made by Parliament and, until provision in that behalf is so made, in such manner as the President may by order prescribe".
Article 142 (2) Subject to the provisions of any law made in this behalf by Parliament, the Supreme Court shall, as respects the whole of the territory of India, have all and every power to make any order for the purpose of securing the attendance of any person, the discovery or production of any documents, or the investigation or punishment of any contempt of itself."
The provision that vests sweeping powers in the Supreme Court for the end of ensuring "complete justice" has been used generally in cases that involve human rights and environmental protection.
Earlier in the Ayodhya case also Supreme court used the power under Article 142 to grant five acres of land in Ayodhya, but outside the disputed area, to Muslim parties. The Supreme Court, implicitly referring to the demolition of the Babri Masjid at the disputed site, said that it was invoking Article 142 "to ensure that a wrong committed must be remedied".
---
4 . IMF on India
---
Context :- India is now in the midst of a significant economic slowdown, the International Monetary Fund has said, urging the government to take urgent policy actions to address the current prolonged downturn.
Details of the report
According to the report t

he issue in India, as of now, is the growth slowdown which according to the report is mostly cycli­cal and not structural.

As per the report due to the financial sector issues, the recovery will be not as quickly quick as we thought earlier
With risks to the outlook tilted to the downside, the IMF called for con­tinued sound macroeconom­ic management.
Advised to take the strong mandate of the new govern­ment to reinvigorate the re­form agenda to boost inclu­sive and sustainable growth.
Reasons for growth slowdown
The current economic slowdown is attributed to abrupt reduction in non-banking financial companies' credit expansion and weak income growth especially in rural areas which has been affecting private consumption.
Hindrance in private investment by financial sector difficulties (including in public sector banks) and insufficient business confidence.
The implementation issues with important structural reforms such as the nation-wide Goods and Services Tax may also have played a role.
Positives from the report
India is still doing well in terms of other economic parameters such as Foreign exchange Reserves which have risen to a record level.
Inflation has been under control for the last few years.
The current account deficit has also narrowed down.
What needs to be done?
In the short term the most critical thing is carrying out reforms in the financial sector.
"We have, what we used to call a twin balance sheet problem being in the commercial banks and corporate sector. Now we may add additional balance sheet issue, which is on the NDFs including housing finance companies. So the most immediate thing would be to try to have some policies related to restoring the health of this sector
Some steps have already been meaning the improvements that should be soon in place in terms of regulation of the sector, there is more information related to the sector; the steps to have a process to its resolution by including them, at least initially in the IBC process.
More comprehensive financial sector resolution plan or act as needed. There were earlier thoughts in this area by the government and we think those should be pursued again, because there are certain complications related to financial sector that don't necessarily work well in a simple kind of insolvency and bankruptcy code. It would be important to have a more comprehensive framework specifically for financial sector,"
Structural Reforms
From the IMF perspective areas needed reforms are labour, land, different product market reform, continuing to enhance competition and also pursuing some of the more medium to long term reforms such as in education and health
About IMF
The International Monetary Fund (IMF) is an organization of 189 countries, working to foster global monetary cooperation, secure financial stability, facilitate international trade, promote high employment and sustainable economic growth, and reduce poverty around the world.
Created in 1945, the IMF is governed by and accountable to the 189 countries that make up its near-global membership.
The IMF's primary purpose is to ensure the stability of the international monetary system—the system of exchange rates and international payments that enables countries (and their citizens) to transact with each other. The Fund's mandate was updated in 2012 to include all macroeconomic and financial sector issues that bear on global stability.
Reports : As part of its World Economic and Financial Surveys, the IMF publishes flagship reports on multilateral surveillance twice a year: World Economic Outlook (WEO), Global Financial Stability Report (GFSR), and Fiscal Monitor (FM). The WEO provides detailed analysis of the state of the world economy, addressing issues of pressing interest such as the protracted global financial turmoil and ongoing economic recovery from the global financial crisis. The GFSR provides an up-to-date assessment of global financial markets and prospects and highlights imbalances and vulnerabilities that could pose risks to financial market stability. The FM updates medium-term fiscal projections and assesses developments in public finances. The IMF also publishes Regional Economic Outlook (REO) reports as part of its World Economic and Financial Surveys.
---
5 . Report on Trend & Progress of Banking in India (2018-19)
---
Context : The Reserve Bank of India has released a report titled Trend and Progress of Banking in India 2018-19.
Key Highlights from the report
Positives
The Indian banking sector's financial parameters such as bad loans and capital adequacy have shown an improvement in recent times.
In 2018-19, the asset quality of scheduled commercial banks turned around after a gap of seven years with the overhang of stressed assets declining and fresh slippages arrested.
Recapitalization had helped public sector banks in shoring up their capital ratios.
As a result of declining provisioning requirement,the banking sector returned to profitability in the first half of 2019-20.
Concerns
The overall health of the banking sector will depend on revival in economic growth.However,the GDP growth for the second quarter of the current financial year has dipped to a six-year low of 4.5%.
Despite the improvement in some of the important parameters, the risk-averse nature among lenders was worrisome.
Further,the waning of confidence among the borrowers is leading to credit slowdown and is affecting the overall economic activity.
Recommendations
The capital infusion by the government in public sector banks is just not enough to meet the regulatory minimum.Hence,the banks might require more recapitalization.
The financial health of PSBs should also be assessed by their ability to access capital markets rather than looking to the government as a recapitalizer of the first and last resort.
---
6 . Run Through Files mechanism
---
Context : To ensure that important government matters don't get delayed owing to conflicting hierarchical and departmental priorities, the Haryana government has introduced a "Run Through Files" mechanism, which would be personally monitored by Chief Minister Manohar Lal Khattar.
About Run through Mechanism
State government has introduced a new provision of "Run Through Files'' in the Centralised File Movement and Tracking Information System (CFMS) to ensure that these most important files do not suffer due to conflicting hierarchical and departmental priorities.
A file shall be marked as Run Through Files only by the Chief Minister in the CFMS.
Every file marked as RTF has to be cleared on priority greater than that is currently being accorded to the files marked top priority.
At whichever level any contribution other than mere signing on the file is made, the same will also be uploaded on CFMS portal.
A system generated SMS and email will automatically be sent on each downward or upward movement of the file," said the communication letter sent by the Chief Secretary office to all departmental heads.
The movement of these files and time taken in clearing the file shall be personally reviewed by the Chief Minister and only he will be able to mark and close the file as 'Run Through File', Hence, the files, marked as RTF may be cleared on top most priority,"
---
7 . Locust Invasion
---
Context : Sharing borders with neighbouring Pakistan, Gujarat is under attack from hoppers — new-born locusts — that have flown in across the international border. As the swarms mature, they have ravaged farms in North Gujarat, devastating farmers in the three border districts Banaskantha, Patan and Kutch.
Background
Historically, the Desert Locust has always been a major threat to man's well-being.
The Desert Locust is mentioned as curse to mankind in ancient writings viz. Old Testament-Bible and the Holy Koran.
The magnitude of the damage and loss caused by the locusts is very gigantic beyond imagination as they have caused the starvation due to its being polyphagous feeder, and on an average small locust swarm eats as much food in one day as about 10 elephants, 25 camels or 2500 people.
Locust do cause damage by devouring the leaves, flowers, fruits, seeds, bark and growing points and also by breaking down trees because of their weight when they settle down in masses.
About Locusts
Locusts are part of a large group of insects commonly called grasshoppers which have big hind legs for jumping. Locusts belong to the family called Acrididae.
Locusts differ from grasshoppers in that they have the ability to change their behaviour and habits and can migrate over large distances.
Locusts have a swarming phase.Swarming refers to a collective behaviour in which locusts aggregate together just like flocks of birds.
Only four types of locust viz., Desert locust (Schistocerca gregaria),Migratory locust (Locusta migratoria) Bombay Locust (Nomadacris succincta) and Tree locust (Anacridium sp.)are reported in India. The desert locust is most important pest in India as well as in intercontinental context.
About the News
The locusts, known as tiddis locally, have wreaked havoc on standing crops of castor, cumin, jatropha, cotton, and potato, and fodder grass in around 20 talukas
Gujarat has not witnessed such an invasion of locusts since 1993-94.
Banaskantha is the worst affected. The insects fly in during the day and settle on the farms at night making it difficult to ward off the swarms. The farmers under seige are hiring workers and using age old techniques like beating drums and vessels to scare the locusts away without much success.
Originally, the locusts emerged in February this year from Sudan and Eritrea on Africa's Red Sea Coast and travelled through Saudi Arabia and Iran to enter Pakistan, where they invaded the Sindh province and from there they moved into Rajasthan and Gujarat.
Havoc created by locust
Locust swarms devastate crops and cause major agricultural damage and attendant human misery—famine and starvation.
They occur in many parts of the world, but today locusts are most destructive in sustenance farming regions of Africa.
The desert locust (Schistocerca gregaria) is notorious. Found in Africa, the Middle East, and Asia, they inhabit some 60 countries and can cover one-fifth of Earth's land surface.
Desert locust plagues may threaten the economic livelihood of one-tenth of the world's humans.
About Locust Warning Organisation
Locust Warning Organization (LWO) established in 1939, later merged with (Directorate of Plant Protection Quarantine and Storage) DPPQ&S in 1946.
Every year LWO undertake Locust surveillance & monitoring in SDA, Coordinate other stake holders on locust situation, issuing locust situation Bulletins, organising Border meetings and conducting Farmer Field Schools (FFSs) programme in LWO/ LCO's in Rabi season. Besides undertake control operations during locust upsurge/incursion.
Role of FAO
One of the mandates of the Food and Agriculture Organization (FAO) of the United Nations is to provide information on the general locust situation to all interested countries and to give timely warnings and forecasts to those countries in danger of invasion.
Therefore, FAO operates a centralized Desert Locust information service within the Locust Group at FAO Headquarters, Rome, Italy.
All locust affected countries transmit locust data to FAO who in turn analyze this information in conjunction with weather and habitat data and satellite imagery in order to assess the current locust situation, provide forecasts up to six weeks in advance and issue warnings on an ad-hoc basis.
FAO prepares monthly bulletins and periodic updates summarizing the locust situation and forecasting migration and breeding on a country by country basis. These are distributed by email, fax, and post.
Control Measures
The scheme Locust Control and Research is being implemented through an Organisation known as Locust Warning Organisation (LWO) established during 1939 and later merged with directorate of PPQ&S in 1946.
The Locust Warning Organisation (LWO) monitors locust development and its activities over an area of 2.05 lakh sq km of the Scheduled Desert Area (SDA) mainly in the states of Rajasthan and Gujarat and partly in Haryana.
The Scheme is being executed through ten Locust Circle Offices (LCOs) located at Bikaner, Jaisalmer, Barmer, Jalore, Phalodi, Nagaur, Suratgarh, Churu in Rajasthan and Palanpur & Bhuj in Gujarat, Locust Warning Organisation (LWO) Field Headquarters at Jodhpur and Locust Division at Central Headquarter Faridabad (Haryana). Besides, there is one Field Station for Investigation on Locust (FSIL) situated at Bikaner.
To strengthen the locust monitoring and forecasting and as per the recommendations made during 28th Session of the FAO Commission for Controlling the Desert Locust in South-West Asia (SWAC), an advanced device named eLocust3 and software RAMSES V4 has been made functional in LWO from January, 2016 with the cooperation of FAO. LWO has wireless network for exchanging the information on locust survey and control between various field offices and Hqrs. Faridabad. Satisfactory, locust control potential is being maintained in the form of pesticides, plant protection equipments, wireless sets, GPS, eLocust3 and trained manpower.
---
8 . Atal Bhujal Yojana
---
Context :- Prime Minister Narendra Modi launched Atal Bhujal Yojana (ABY), a scheme for sustainable management of ground water resources, in New Delhi. The scheme was launched on the occasion of 95th birth anniversary former Prime Minister Late Atal Bihari Vajpayee.
About the Scheme
Atal Bhujal Yojana is a Central Sector Scheme under Ministry of Jal Shakti.
The scheme is to be implemented over a period of 5 years from 2018-19 to 2022-23, with World Bank assistance.
Central Ground Water Authority (CGWA) is regulating groundwater development in 23 States/UTs.
For enforcement of the regulatory measures in these areas, concerned Deputy Commissioners/ District Magistrates have been directed under Section 5 of Environment (Protection) Act, 1986 to take necessary action in case of violations of directives of CGWA.
The scheme envisages active participation of the communities in various activities such as formation of Water User Associations, monitoring and disseminating ground water data, water budgeting etc.
Preparation and implementation of Gram-Panchayat wise water security plans and IEC activities related to sustainable ground water management is also to be carried out.
Aims
The scheme aims to improve groundwater management in priority areas in the country through community participation.
The priority areas identified under the scheme fall in the states of Gujarat, Haryana, Karnataka, Madhya Pradesh, Maharashtra, Rajasthan and Uttar Pradesh.
These States represent about 25% of the total number of over-exploited, critical and semi-critical blocks in terms of groundwater in India.
They also cover two major types of groundwater systems found in India – alluvial and hard rock aquifers- and have varying degrees of institutional readiness and experience in groundwater management.
The scheme will also help in supplying water to every house hold by 2024.
How scarce is water in India?
India accounts for 16 per cent of the world's population living in less than 2.5 per cent of the global area, and has just 4 per cent of the global water resources. According to the Central Water Commission (CWC), the estimated water resources potential of the country, which occurs as natural runoff in the rivers, is 1,999 billion cubic metres. Of this, the estimated utilisable resources are 1,122 billion cubic metres per year — 690 BCM per year surface water and 432 BCM per year replenishable groundwater.
According to the CWC, per capita availability in the country will decrease from 1,434 cubic metres in 2025 to 1,219 cubic metres in 2050.
By CWC benchmarks, a water-stressed condition happens when per capita availability is less than 1,700 cubic metres, and a water-scarcity condition when per capita availability falls below 1,000 cubic metres.
Some river basins are facing a water-scarcity condition. Among these are the basins of the Indus (up to the border), Krishna, Cauvery, Subarnarekha, Pennar, Mahi, Sabarmati and east-flowing rivers, and west-flowing rivers of Kutch and Saurashtra including Luni. Water scarcity is most acute in the basins of the Cauvery, Pennar, Sabarmati and east-flowing rivers, and west-flowing rivers of Kutch and Saurashtra including Luni.
What is the groundwater situation in particular?
According to 'Water and Related Statistics 2019', a report published by the CWC, the annual replenishable groundwater resources in India (2017) are 432 BCM, out of which 393 BCM is the annual "extractable" groundwater availability.
Fifteen states account for about 90 per cent of the groundwater potential in the country. Uttar Pradesh accounts for 16.2 per cent, followed by Madhya Pradesh (8.4%), Maharashtra (7.3%), Bihar (7.3%), West Bengal (6.8%), Assam (6.6%), Punjab (5.5%) and Gujarat (5.2%). The current annual groundwater extraction is 249 BCM, the largest user being the irrigation sector. This is why the government has called for alternatives to water-intensive crops such as paddy and sugarcane.
Compared to the decadal average for 2009-18, there has been a decline in the groundwater level in 61% of wells monitored by the Central Ground Water Board (CGWB), according to a reply by the Jal Shakti Ministry in Parliament recently. Among the states where at least 100 wells were monitored, the highest depletion has been in Karnataka (80%), Maharashtra (75%), Uttar Pradesh (73%), Andhra Pradesh (73%), Punjab (69%).
What is the role of the CGWB?
The Board monitors water levels and quality through a network of 23,196 "National Hydrograph Monitoring Stations" — 6,503 dug wells and 16,693 piezometers —in January, March-May, August and November every year. A piezometer is a device placed in a borehole to monitor the pressure or depth of groundwater.
The CGWB has classified the country's assessment units (blocks, taluks, mandals etc) into safe, semi-critical and over-exploited in terms of groundwater resources.
The number of over-exploited units has increased to 1,186 in 2017, from 839 in 2004. In the north, more than 60% of the assessment units in Delhi, Punjab, Haryana and Rajasthan are either over-exploited or critical.
As per the govt 14% of the country's assessment units are semi-critical, 5% are critical, and 17% are over-exploited, as of 2017.
How much of this does the new scheme seek to address?
For now, the Atal Bhujal Yojana will be implemented in seven states – Gujarat, Haryana, Karnataka, Madhya Pradesh, Maharashtra, Rajasthan and UP over five years from 2020-21 to 2024-25.
It is expected that it will benefit about 8,350 gram panchayats in 78 districts.
According to Jal Shakti Ministry sources, if the scheme meets its objectives in water-stressed areas, it will be extended to other parts of the country.
How will these objectives be met?
The focus will be on arresting the rate of decline of groundwater levels as well as water consumption. The scheme will seek to strengthen the institutional framework and bring about behavioural changes at community level for sustainable groundwater resource management. It envisages community-led Water Security Plans.
There has been a Groundwater Management and Regulation scheme to manage the country's groundwater resources since 2013. The new scheme is an updated and modified version.
Concepts such as 'Water User Associations' and Water Budgeting will be introduced. Better performing districts and panchayats will get more funds.
Where will this money come from?
Of the Rs 6,000 crore, Rs 3,000 crore will be contributed by the World Bank as loan while the other half will be provided by the central government in the form of central assistance. All of it — the World Bank component and central assistance — will be given to the states as grants.
---
9 . Sanskrit Inscription found in AP
---
Context :- In a significant find, the Epigraphy Branch of the Archaeological Survey of India has discovered the earliest epigraphic evidence so far for the Saptamatrika cult.
About Saptamatrikas
Saptamatrikas are a group of seven female deities worshipped in Hinduism as personifying the energy of their respective consorts. The inscription is in Sanskrit and in Brahmi characters and was issued by Satavahana king Vijaya in 207 A.D.
About the discovery
The inscription came to light when some local villagers informed ASI authorities about a pillar with some engravings when they were restoring and repairing local Bheemeshwara Temple.
It is in Sanskrit and in Brahmi characters and was issued by Satavahana king Vijaya in 207 A.D.
The inscription was first copied and studied and it transpired that it records the construction of a prasada (temple), a mandapa and consecration of images on the southern side of the temple by a person named Kartika for the merit of the king at the temple of Bhagavathi (Goddess) Saktimatruka (Saptamatrika) at Tambrape; Tambrape being the ancient name of Chebrolou.
The place also yielded another inscription which is in Prakrit language and of Brahmi characters and belongs to the 1st century A.D. This is the earliest epigraphic reference to Mutts and records the gift of a cloister mandapa and chaitya to the bhavatho (Lord) of the Gadasa Mutt by a person hailing from Tabaava,
Importance of the discovery
There are references of Saptamatrika worship in the early Kadamba copper plates and the early Chalukyas and Eastern Chalukya copper plates. But the new discovery predates them by almost 200 years.
The verification of all the available records proved that the Chebrolu inscription of Satavahana king Vijaya issued in his 5th regnal year –207A.D.—is also the earliest datable Sanskrit inscription from South India so far.
Nagarjunakonda inscription of Ikshavaku king Ehavala Chantamula issued in his 11th regnal year corresponding to the 4th century A.D. was considered the earliest Sanskrit inscription in South India.
---
10 . Good Governance Index
---
Context : The MoS (PP) Dr Jitendra Singh launched the 'Good Governance Index' at an event organized by the Ministry of Personnel, Public Grievances & Pensions, on the occasion of Good Governance Day,
About Good Governance Index
The Good Governance Index is a uniform tool across States to assess the Status of Governance and impact of various interventions taken up by the State Government and UTs.
The objectives of GGI are to provide quantifiable data to compare the state of governance in all states and UTs, enable states and UTs to formulate and implement suitable strategies for improving governance and shift to result oriented approaches and administration.
Various principles have been kept in mind while selecting the indicators, i.e. it should be easy to understand & calculate, citizen-centric & result driven, leading to improved results and applicable to all states and UTs, among others.
The government celebrates December 25 as Good Governance Day to mark the birthday of former Prime Minister Atal Bihari Vajpayee.
Sectors & Calculation
The GGI takes into consideration ten sectors:
1). Agriculture and Allied Sectors, 2). Commerce & Industries, 3). Human Resource Development, 4). Public Health, 5). Public Infrastructure & Utilities, 6). Economic Governance, 7). Social Welfare & Development, 8). Judicial & Public Security, 9). Environment and 10). Citizen-Centric Governance.
These ten Governance Sectors are measured on total 50 indicators. Difference indicators are given different weightage under one Governance Sector to calculate the value. E.g. Under Agriculture & Allied Sector, there are 6 indicators with different weightage, namely: Growth rate of agriculture and allied sector (0.4), growth rate of food grains production (0.1), growth rate of horticulture produce (0.1), growth rate of milk production (0.1), growth rate of meat production (0.1) and crop insurance (0.2).
The states and UTs are divided into three groups: a). Big States, b). North-East & Hill States and c). UTs.
The states and UTs are ranked on all indicators separately, at the same time composite ranking is also calculated for these states and UTs under their respective groups based upon these indicators.
Rankings
The rankings were launched by the Department of Administrative Reforms and Public Grievances and the Centre for Good Governance.
Tamil Nadu has topped the Good Governance Index released by the Centre on Wednesday, followed by Maharashtra, Karnataka, Chhattisgarh and Andhra Pradesh.
Odisha, Bihar, Goa, and Uttar Pradesh did not fare well in the Big States category and Jharkhand was at the bottom of the list.
In the North-East and Hill States category, Himachal Pradesh ranked first, followed by Uttarakhand, Tripura, Mizoram and Sikkim. Jammu and Kashmir is at the sixth place, followed by Manipur, Meghalaya, Nagaland and Arunachal Pradesh.
Among the Union Territories, Puducherry emerged as the best-governed, ahead of Chandigarh and Delhi. Lakshwadeep was found to be the worst-performing.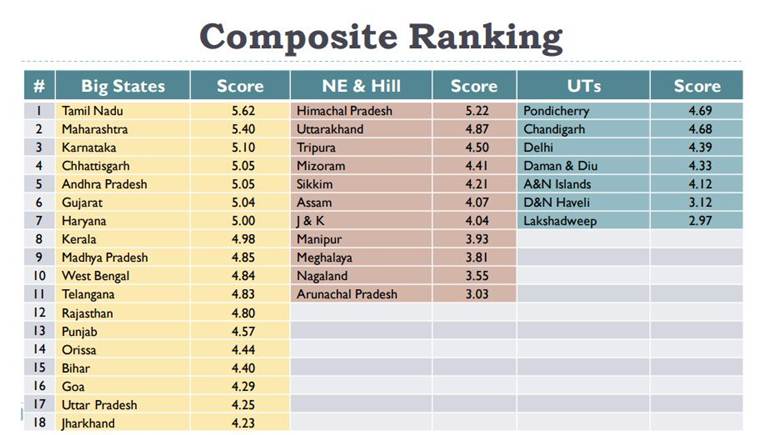 ---
11 . Brahmos Missile
---
Context : Defence Research and Development Organisation (DRDO) carried out two successful tests of the latest variant of the BrahMos missile, one from the land platform and the other from air.
The missile
BrahMos, developed through a collaboration between India and Russia, is one of the most advanced weapons in India's armoury.
BrahMos is a cruise missile, meaning it can be guided towards a pre-determined land- or sea-based target. With a capability to attain speeds 2.8 times that of sound (Mach 2.8), BrahMos is classified as supersonic cruise missile.
A newer version under development is aimed at flying at speeds greater than Mach 5. These are called hypersonic cruise missiles. Besides decreasing the reaction time of the enemy, higher speeds also substantially reduce the chances of the missile getting intercepted.
An amalgam of the names of the rivers Brahmaputra and Moskva, BrahMos is being produced by BrahMos Aerospace, a joint venture company set up by DRDO and Mashinostroyenia of Russia in 1998. The first version of the BrahMos supersonic cruise missile was inducted into the Indian Navy in 2005, meant to be fired from INS Rajput.
About the test
Missile is continuously upgraded and updated with new hardware and software. This is what necessitates periodic tests of the missile.
DRDO scientists said that in every such exercise of a specific variant of BrahMos, different parameters are put to test.
"India's missile development programme has made sure that its missiles are upgraded and new systems are also developed.
BrahMos has undergone development through the early 2000s till date.
Its land-to-land, submarine-fired and now air-fired variants have been developed stage by stage.
Each new version has something additional compared to the previous version
Air-based test
One of the tests last week was carried out from air, using the Sukhoi-30 MKI fighter jets of the Indian Air Force as the base. The missile destroyed a target at sea. This was the third air-based test of the missile and marked the completion of the integration of BrahMos missile with the Sukhoi-30 MKI aircraft.
In 2017, the Indian Air Force had become the first in the world to successfully air-launch a Mach 2.8 supersonic surface-attack missile of this category from a fighter jet.
The BrahMos Air-Launched Cruise Missile (ALCM), as it has since been called, has been a significant addition in IAF's air combat capability from stand-off ranges. Stand-off range missiles are ones that are launched at a distance sufficient to allow an attacking party to evade defensive fire expected from the target area.
Last week's test has again validated the ship attack capability of the ALCM. During the test, the missile was gravity-dropped from the fuselage of a Su-30 and the two-stage missile's engine fired up. Subsequently, the missile propelled towards a target ship at the sea, destroying it with pinpoint accuracy.
The successful testing of air-platform of BrahMos has further strengthened the tactical cruise missile triad — land, sea and air — for India.
---
12 . Millimeter' spectrum
---
Context : The Department of Telecommunications (DoT) plans to auction the 24.75 – 27.25 gigahertz (GHz) spectrum in the 5G band in the next calendar year, and is likely to seek Telecom Regulatory Authority of India's (TRAI) views on the same, officials in the know of the developments said.
About Millimeter Wave Band
The millimeter-wave band or extremely high-frequency frequency spectrum is mainly designed for usage in airport security scanners, closed-circuit television, scientific research, machine-to-machine communication, and military fire control.
As your wavelength becomes smaller, the cell size becomes less, which is the footprint of the relay station. This will be used more by the industry. And where you already have fiber connection and you want to reach houses, this will be through millimeter bands
This new spectrum under the 5G band called the 'millimeter-wave bands' is separate from the 8,300 megahertz (MHz), which the government plans to auction between March and April. The DoT is likely to approach TRAI in January for seeking its views on the sale of these additional bands, DoT officials said.
---
13 . Climate change and Disaster
---
Context :- At least 15 natural disasters linked to climate change this year caused damage of over $1 billion each and seven of them cost at least $10 bil­lion, according to British charity Chris­tian Aid.
Concerns
This year is set to be the second hottest year in histo­ry and each of the disasters in the report has a link with climate change.

Assembling its report disasters displaced millions and caused wides­pread deaths.

Major disasters include the floods that ravaged north India, typhoon Leki­ma in China, Hurricane Dor­ian in the U.S., fl oods in Chi­na, fl oods in the Midwest and southern U.S., typhoon Hagibis in Japan and the Ca­lifornia wildfires, the cos­tliest tragedy at $25 billion.
Ma­jority of deaths were caused by just two events, in India and southern Africa, which called it a refl ection of how the world's poorest people pay the heaviest price for the consequences of climate change.
Financial cost was greatest in richer countries: Japan and the United States suffered three of the four most costly events.
Greenhouse gas emissions are once again set to rise in 2019 after hitting a record in 2018, as extreme weather events – made more likely as the planet warms – struck seemingly everywhere this year.These include Cyclone Idai in Mozambique, typhoon Hagibis in Japan, a deadly, record-breaking heatwave across much of Europe, wildfires in California and eastern Australia and floods in Venice.
The threat posed by climate change became so stark in 2019 that Indonesia, one of the fastest-growing economies on Earth, decided to move its capital to somewhere that wasn't sinking.
---
14 . Overseas Citizens of India
---
Context :- The Union Home Ministry has relaxed the provisions for Overseas Citizens of India (OCI) card holders that made it compulsory for those aged above 50 and below 20 to re­new their cards on renewal of their passports.
Importance ?
Several OCI card holders were not able to travel to In­dia due to the provision and many were stopped by airlines and immigration authorities at various airports due to the mismatch.
About the Change
According to a recent Home Ministry order, an OCI card holder is required to re­register each time a new passport is issued till 20 years of age and once after 50 years of age but re­is­suance of OCI registration is not mandatory each time a new passport is issued bet­ween the ages of 21 and 50.
In order to facilitate OCI card holders, this require­ment has been relaxed till 30th June 2020 as per MHA instructions.The OCI cardholder should carry existing OCI card along with Old and New passport.
Who is an OCI?
An OCI, is a category introduced by the government in 2005.
Persons of Indian Origin (PIOs) of certain categories as specified in the Citizenship Act, 1955 are eligible for being OCI cardholders.
Some of the benefits for PIO and OCI cardholders were different until 2015, when the government merged these two categories.
The MHA defines an OCI as a person who was a citizen of India on or after January 26, 1950; or was eligible to become a citizen of India on that date; or who is a child or grandchild of such a person, among other eligibility criteria.
According to Section 7A of the OCI card rules, an applicant is not eligible for the OCI card if he, his parents or grandparents have ever been a citizen of Pakistan or Bangladesh.
Benefits for OCI card holders?
OCI cardholders are given benefits on a par with non­ Resident Indians in financial, economic and educational fields, except in the acquisi­ tion of agricultural or planta­tion properties.
OCI cardholders are given free multiple entry and mul­ti­purpose life­long visa to vi­sit India and are also ex­empted from reporting to police authorities for any length of stay in India.
---
15 . Reasons for Increase in Cold
---
Context : December, north India is feeling the cold much more than earlier
Possible Reasons
CLIMATE CHANGE: The unusually cold December this year could just be another instance of extreme climates becoming more and more frequent, a result of climate change. Across the world, the frequency and intensity of both heatwaves and cold waves have increased in the last few years, and are predicted to increase further. The same is the case with extreme rainfall and drought. Just this year, India experienced an unusually wet August and September. The amount of rainfall that September produced was a once-in-a-century event. Scientists also agree that climate change was bringing in greater uncertainty in weather patterns, making them more difficult to predict.
WESTERN DISTURBANCES: Frequent western disturbances varying from moderate to intense have mainly contributed to the severe cold over all of north India this year. In addition, the flow of northwesterly winds over northwest India, that too over much lower levels, further fuelled the chill factor, making the days much colder than normal during December. This December also witnessed haze, fog and rainfall after the passing of each western disturbance, triggering cold weather conditions over north India.
LOW CLOUDS: This extended cold spell has been triggered due to low stratus clouds that are blanketed over a large geographical area — between Pakistan, cutting across India and running up to Bangladesh. Similarly, it is prevailing over a stretch of 500 km to 800 km north-south, affecting the entire north India.
---
16 . Facts for Prelims
---
Citizenship Rules 2003
The central government enacted The Citizenship (Registration of Citizens and Issue of National Identity Cards) Rules in December 2003 for The Citizenship Act, 1955.
The Rules lay down guidelines for the government to prepare the National Register of Indian Citizens (NRC). They state that a house-to-house enumeration of the details of individuals and families (including name, place of birth and citizenship status) should be carried out.
The Citizenship Rules, 2003, however, state clearly that the Centre, by issuing an order, can decide a date to prepare the NPR.
It also provides for the creation of a National Register of Indian Citizens (NRIC), or the NRC, which is being opposed by people across the country, that will flow from data gathered in the NPR.
According to the Rules, a person's citizenship status will be decided by local officials – whether or not the person will figure in the NRIC or not. No new law or rules are needed to conduct this exercise across the country.
In 2009, these Rules were amended to include special provisions and a schedule for the NRC in Assam, where the influx of Bangladeshi immigrants has been a matter of public debate and judicial scrutiny for many years. The first NRC in Assam was released in 1951, and the most recent NRC, which came out on August 31, 2019, excluded over 19.6 lakh applicants from a total of over 3.3 crore.
NPR
Socio Economic Caste Census (SECC) is based on the NPR data, which was subsequently used for deciding different types of beneficiaries.
Household wise NPR data was used in better targeting of schemes such as Ayushman Bharat, Jan Dhan Yojana, Prime Minister Awas Yojana, Ujjwala Yojana, Saubhagya etc
Flamingo festival
The Flamingo Festival is organised annually in Pulicat Lake Bird sanctuary and Nellapattu Bird Sanctuary in Andhra Pradesh
Pulicat Lake Bird Sanctuary is located in Nellore district of Andhra Pradesh and Protected area in Thiruvallur District of Tamil Nadu state in South India.
Pulicat Lake is the second largest brackish-water eco-system in India after Chilka lake in Orissa
The sanctuary is most noted for the many greater flamingos. It also attracts many migratory birds and also is a feeding and nesting ground for aquatic and terrestrial birds such as pelicans,storks,etc.
MIG 27
The IAF's Swing-Wing fighter jet MiG-27 flew its last sortie at the Jodhpur Air Force station on December 27. This marks the end of another Russian MiG series of fighters in the Indian inventory. The IAF's combat strength has now fallen to 28 fighter squadrons From 1985 onwards, the IAF has flown about 165 MiG-27 fighters.
Belum Caves
Andhra Pradesh Government will be hosting the Belum Caves festival in January 2020 to popularise the Belum caves. The name Kandanavolu Sambaralu has been proposed for the festival, Kandanavolu being the original name of Kurnool.
Belum Caves are the largest cave system open to the public in the Indian subcontinent and is a protected monument. The longest natural cave in the Indian subcontinent is Krem Liat Prah caves in Meghalaya.
The Belum Caves are more than a thousand year old, and was formed by the constant flow of underground water over a period of time.
These caves are renowned for their speleothem structures (Speleothems are secondary mineral deposits formed in a cave), such as stalactite and stalagmite formations.
The caves were occupied by Jain and Buddhist monks many centuries ago. The presence of 4500 years old vessels from the pre-Buddhism era ensures the same.
Tibetan Gazelles
They are also known as Goa Antelope.
They are native to the Tibetan plateau, and are widespread throughout the region, inhabiting terrain between 3,000 and 5,750 m in elevation.
They are almost restricted to the Chinese provinces of Gansu, Xinjiang, Tibet, Qinghai, and Sichuan, with tiny populations in the Ladakh and Sikkim regions of India.
IUCN Status: Near Threatened
Digital Village
Digital Village, which was conceptualised by the Common Service Centre (CSC) SPV under he Ministry of Electronics and IT, is a village where citizens can avail various e-services of the central and the State governments, as well as of private players.
These include banking, insurance, tele-medicine, pension and e-governance services.
Such villages are also equipped with LED bulb assembly unit, sanitary napkin unit, and rural-Wifi infrastructure.