Daily Current Affairs for UPSC CSE
Topics Covered
Withdrawal of Monsoon
Recognized National and State Parties
Jharkhand Domicile Issue
PLI Scheme on Manufacture of solar cell
International Treaty on Plant Genetic Resources for Food and Agriculture
National Logistics Policy
Facts for Prelims
Map work
---
1 . Withdrawal of Monsoon
---
Context: The southwest monsoon rainfall, 7% more than normal, has started to withdraw. The India Meteorological Department (IMD) said that the system had begun retreating from parts of southwest Rajasthan and Kutch.
Key highlights
The "normal" or average date of withdrawal from southwest Rajasthan was September 17.
The September rainfall so far has been 11% more than usual, following a trend in recent years that is seeing excess rainfall in a month that marks the waning of the monsoon.
Most of the rain, however, has been in the southern peninsula and central India, which have seen 29% and 33% more rain than what is usual for these regions in September.
India has so far recorded 7% more rain than what is normal for the period from June 1 to September 20.

The surplus is due to excess rain in central and southern India.

The northwest, eastern and northeastern parts of the country have registered a deficit of 4-17% of their normal rainfall.
Withdrawal of Monsoon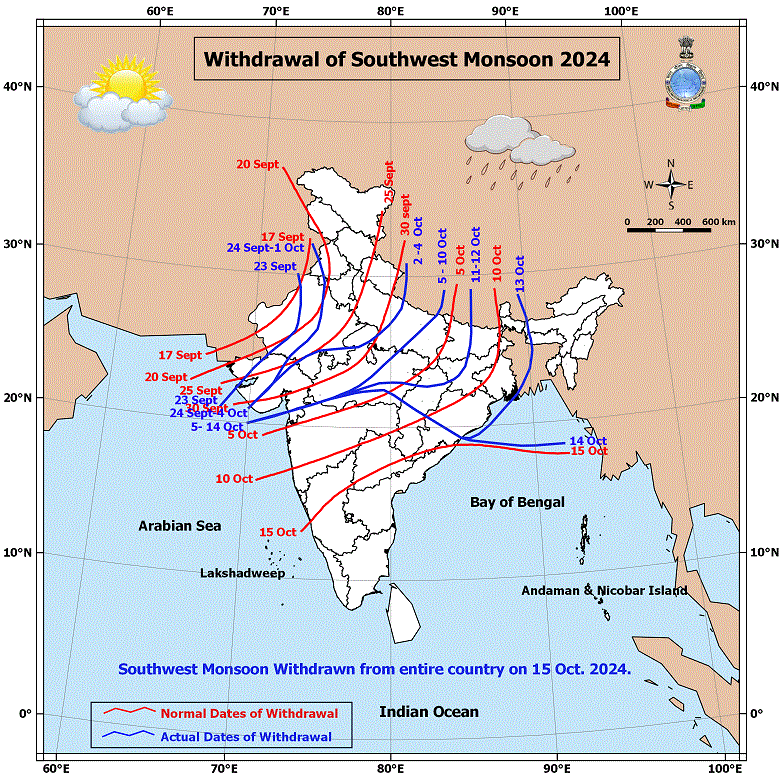 The withdrawal of the monsoon was based on meteorological conditions such as an anti-cyclonic circulation (dry air that is the opposite of a cyclone), the absence of rain in the past five days and the water vapour imagery indicating dry weather conditions over the region.
The monsoon withdrawal is a long-drawn process and extends into mid-October, though the IMD considers September 30 to be the final day of the season over India.

The rain after that is categorised as "post-monsoon" rainfall.

The following major synoptic features are considered for the first withdrawal from the western parts of NW India.

Cessation of rainfall activity over the area for 5 continuous days.

Establishment of anticyclone in the lower troposphere

Considerable reduction in moisture content as inferred from satellite water vapour imageries and tephigrams.

Further withdrawal from the country is declared, keeping the spatial continuity, reduction in moisture as seen in the water vapour imageries and prevalence of dry weather for 5 days.
Withdrawal of SW monsoon is from the southern peninsula and hence from the entire country only after 1st October, when the circulation pattern indicates a change over from the southwesterly wind regime
---
2 . Recognised National and State Parties
---
Context: The Election Commission's ongoing drive to clean up the electoral space has now gone "beyond RUPPs (registered unrecognised political parties)" to cover recognised national and State parties.
Key Highlights
The EC has delisted or declared as inactive 537 registered unrecognised political parties since May for failing to comply with various rules and misusing the Income-Tax (I-T) exemption.
While the I-T Act allows cash donations of up to ₹2,000 only, the Representation of the People Act, 1951, requires parties to submit details to the EC of donations of above ₹20,000 each.
Earlier, the Chief Election Commission proposed changes to the mandatory reporting of donations.

The EC proposed that parties should declare each donation over ₹2,000, rather than the existing limit of ₹20,000.
Recognised National and State parties
For any political party to be eligible for recognition as a State Party in a state, it has to satisfy any of the five conditions listed below:

Secure at least 6% of the valid vote & win at least 2 seats in an Assembly General Election

Secure at least 6% of the valid vote & win at least 1 seat in a Lok Sabha General Election

Win at least 3% of the seats or at least 3 seats, whichever is more, in an Assembly General Election

Win at least 1 out of every 25 seats from a state in a Lok Sabha General Election

Secure at least 8% of the total valid vote in an Assembly or a Lok Sabha General Election

For any political party to be eligible for recognition as a National Party, it has to satisfy any of the three conditions listed below:

Secure at least 6% of the valid vote in an Assembly or a Lok Sabha General Election in any four or more states and win at least 4 seats in a Lok Sabha General Election from any State or States

Win at least 2% of the total Lok Sabha seats in a Lok Sabha General Election and these seats must be won from at least 3 states

The party is recognized as a State Party in at least four states
Advantages of being recognized as a State or National Party
The biggest advantage of being recognized is getting the reserved symbol.

A party recognized as a state party gets a reserved symbol within the state. 

All the candidates contesting from that party will get the same symbol throughout the state.

For National Parties, the reserved symbol can be used across the country by its contesting candidates.

This is one the biggest advantage since symbol plays a very important role in elections.

There are also other advantages to the recognized parties like subsidized land for party offices, free airtime on Doordarshan & All India Radio, supply of electoral roll copies free of cost during elections etc.
As of date, there are 7 national parties, more than 50 state parties and more than 2300 registered parties that are unrecognized.
Independents and candidates from unrecognized parties can choose from the list of more than 100 free symbols available as their election symbol.
---
3 . Jharkhand Domicile issue
---
Context: On September 14, Jharkhand cabinet approved the long pending demand of Adivasi-Moolvasis (original inhabitants) to make 1932 as the cut-off year for domicile under the title 'Jharkhand Definition of Local Persons and for Extending the Consequential, Social, Cultural and Other Benefits of such Local Persons Bill, 2022'. The draft Bill will be passed in the next Assembly session and then sent to the Centre with a proposal to place it in the ninth schedule of the Constitution (which contains the list of Central and State laws and will accord it protection from challenges in courts).
 Why has 1932 been decided as the cut-off year for the policy?
Different tribal groups have been demanding 1932 as the cut-off year for several years because of the land survey and revenue register done that year in large parts of the State.
As per the proposed domicile policy, people who have their names or their ancestor's name in the land records of 1932 or before, will be considered as local inhabitants of Jharkhand. But those who have lost their land records or have land records which are illegible or are landless people, can approach their respective Gram Sabhas for their inclusion.
 Besides, 1932 was fixed as the cut-off year for domicile policy as the migration of people from other States to Jharkhand (undivided Bihar) had resulted in negatively impacting the "original inhabitants/moolvasis/aboriginals."
This can be verified as the percentage of population of the aboriginals/[STs] since the 1941 census has seen a steady decline in Jharkhand.
There needs to be affirmative action at the policy level for the development of STs and moolvasis and the identification of local persons was a compelling necessity to provide social, cultural, educational service and other benefits.
However, records show that land and revision surveys were done in Jharkhand at different times in different districts and areas. It has been done several times in the State at different points.

Therefore, marking 1932 as the only cut-off year for domicile policy would leave lakhs of citizens of the State as "refugees".

The first land survey, especially in the Santhal area of the State, was done in 1872 and then in 1922. J. F. Gantzer had a complete land survey of the Santhal Pragana done with amendments in 1932, 1934 and 1936.
---
4 . PLI Scheme on Manufacture of Solar Cell
---
Context: The Union Cabinet cleared a ₹19,500-crore scheme to incentivise manufacturing of domestic solar cell modules to reduce the industry's reliance on China-made panels. This is a follow-up to ₹4,500-crore tranche that was cleared in November 2020.
Key Features of the Policy
Bidders for projects would be given performance-linked incentives (PLI) to set up and run manufacturing facilities that will span the entire production cycle of modules from making the polysilicon cells, ingots, wafers and panels to assembling modules that are used to produce electricity.
The PLI will be disbursed to firms after they set up their manufacturing units and the money disbursed over five years.
Ministry of New and Renewable Energy (MNRE) is the nodal body charged with administering the programme

It has an estimated manufacturing capacity of 65,000 MW of fully and partially integrated, solar PV modules to be installed over five years.

The bulk of the allocation, of nearly ₹12,000 crore, is to incentivise the setting up of integrated manufacturing facilities because there is no installed capacity in India to manufacture polysilicone and wafers (the raw material for solar panels).
Benefits
This scheme would bring in a direct investment of around ₹94,000 crore, directly employ about 1,95,000 and indirectly around 7,80,000 persons.
It would save India close to ₹1.37 trillion in imports.
India has committed, as part of its international climate commitments, to a target of installing 5,00,000 MW of electricity from non-fossil fuel-based sources by 2030 and this translates to 2,80,000 – 3,00,000 MW from solar electricity alone.
With these schemes it is expected to have 70-80 GW of capacity which would take care of our domestic requirements as well as exports.
Importance
The solar PV module production-linked incentive scheme is likely to go a long way in developing the supply chain for solar PV module manufacturing in India.
The PLI benefits coupled with State incentives under the industrial policies of the State government, concessional/ deferral duty schemes in customs [such as project import and manufacturing and other operations in bonded warehouse regulations], etc would help in improving the IRR of the project and make Indian-manufactured solar PV modules competitive in the market.
---
5 . International Treaty on Plant Genetic Resources for Food and Agriculture
---
Context: On the second day of the governing body meeting of the International Treaty on Plant Genetic Resources for Food and Agriculture (ITPGRFA), the issue of farmers' rights remained the focal point of discussions.
Key highlights
The Union Agriculture Ministry said India stood for the creation of an option for implementation of farmers rights and proposed that use of Global Information System (GIS) for Plant Genetic Resources for Food and Agriculture needs capacity building among contracting parties.
The government said an expert group on farmers rights was constituted in 2017 with efforts taken by India and the country led the group as co-chair.
India ensured discussion of the group even during pandemic and prepared a set of options and future process for implementing farmers rights in any country.
India also pushed for the revival of enhancement of multilateral system as from 2019, all formal meetings of the ITPGRFA were suspended.
India along with Switzerland organized an informal meeting at UN-Geneva and prepared a document for the ninth meeting of the general body to deliberate. As a result, a Contact Group is constituted under the co-chairmanship of India to decide the future process.
India also called for capacity building to use the GIS on Plant Genetic Resources for Food and Agriculture. India, as member of the Scientific Advisory Committee, proposed that use of GLIS needs capacity building among contracting parties.
India wants continued efforts towards conservation and sustainable use of Plant Genetic Resources for Food and Agriculture. So, as member of Committee on Conservation and Sustainable Use, proposed joint programs with international and regional organisations/institutes to fulfil this agenda.
International Treaty on Plant Genetic Resources for Food and Agriculture (ITPGRFA)
The International Treaty on Plant Genetic Resources for Food and Agriculture also known as ITPGRFA, International Seed Treaty or Plant Treaty, is a comprehensive international agreement in harmony with the Convention on Biological Diversity, which aims at guaranteeing food security through the conservation, exchange and sustainable use of the world's plant genetic resources for food and agriculture (PGRFA), the fair and equitable benefit sharing arising from its use, as well as the recognition of farmers' rights.
It was adopted by the Food and Agriculture Organization of the United Nations on November 3, 2001.
It was signed in 2001 in Madrid and entered into force on 29 June 2004.
The International Treaty is the first legally binding international instrument to formally acknowledge the enormous contribution of indigenous people and small-holder farmers as traditional custodians of the world's food crops.  
It also calls on nations to protect and promote their rights to save and use the seeds they have taken care of for millennia.
The Treaty aims at:

Recognizing the enormous contribution of farmers to the diversity of crops that feed the world;

Establishing a global system to provide farmers, plant breeders and scientists with access to plant genetic materials;

Ensuring that recipients share benefits they derive from the use of these genetic materials.
---
6 . National Logistics Policy
---
Context: The Cabinet approved the National Logistics Policy, which aims to reduce cost of logistics and bring efficiency through "streamlining processes, regulatory framework and skill development". It aims to improve the Logistics Performance Index ranking by 2030
What was the need for a logistics policy?
Logistics broadly includes facilities crucial to trade: transport services for the movement of goods, storage facilities that are particularly essential for trade in perishable goods such as food items, fruits, and vegetables, and smooth functioning of government services that facilitate trade such as licensing and customs.
The logistical cost in India is about 13% of GDP. Such a situation does not exist in developed countries. Due to high logistical cost, the competitiveness of India's exports is greatly reduced.
In a Ministry of Commerce and Industry survey last year, titled 'Logistics Ease Across Different States', Gujarat, Punjab, and Haryana were ranked the top three states.

The parameters included were the quality of road and railways infrastructure, road freight rates, quality of warehousing infrastructure, etc.

The survey suggested that states should focus on areas such as developing sector-specific skilling infrastructure and streamlining logistics-related approval and clearance processes.
Features of the National Logistics Policy
The new logistics policy has four features:

Integration of Digital System (IDS);

Unified Logistics Interface Platform (ULIP);

Ease of Logistics (ELOG); and

System Improvement Group (SIG).

Under the IDS, 30 different systems of seven departments are integrated – including data from the road transport, railways, customs, aviation and commerce departments.
A Unified Logistics Interface Platform ULIP will bring all the digital services related to the transportation sector into a single portal.
Similarly, a new digital platform Ease of Logistics Services (E-Logs) has also been started for industry associations to resolve issues by reaching out to the government.
How is the government focusing on improving logistics?
The government has programmes and schemes aimed at improving logistics aspects, such as the FASTag for electronic toll tax collection and faceless assessment for customs.
In terms of scale, the biggest of these plans is the Gati Shakti master plan, and the huge amount of information related to different infrastructure projects of state governments has been prepared.
Today, data from the central and state governments in about 1500 layers are coming on the PM Gatishakti portal.
Gati Shakti plan was mentioned on August 15, 2021 as a 100-lakh crore national infrastructure master plan which will make a foundation for holistic infrastructure and give an integrated pathway to our economy.
A single platform was launched for ministries to monitor the progress of various infrastructure projects.
Later, the Centre was aiming at adding over 200 airports, helipads, and water aerodromes where aircraft can land, over the next 4 to 5 years, besides nearly doubling the existing natural gas pipeline network of around 19,000 km.
---
7 . Facts for Prelims
---
Chital
The chital also known as spotted deer, chital deer, and axis deer, is a deer species native to the Indian subcontinent.
It lives in grasslands and forests in India and Sri Lanka in herds of up to 100 or more.
It stands 90–95 cm (35–37 inches) at the shoulder.
Its spotted coat is reddish brown above and white below.
The male chital has branching, usually three-tined antlers up to 100 cm long.
It is sexually dimorphic; males are larger than females, and antlers are present only on males.
The upper parts are golden to rufous, completely covered in white spots.

The abdomen, rump, throat, insides of legs, ears, and tail are all white.

The chital is listed on the IUCN Red List as least concern because it occurs over a very wide range within which there are many large populations.
Currently, no range-wide threats to chitals are present, and they live in many protected areas.
Asian Development outlook report
The Asian Development Outlook is an annual publication (available online and in print) produced by the Asian Development Bank (ADB). It offers economic analysis and forecasts, as well as an examination of social development issues, for most countries in Asia
The Asian Development Bank (ADB) cut its forecast for India's economic growth in 2022-23 to 7%, from 7.5% estimated in April, terming it a "modest downward revision" driven by higher-than-anticipated inflation and monetary tightening.
It also raised its inflation projection for India for this year to 6.7% and widened the current account deficit (CAD) estimate to 3.8% of GDP.
India's first-quarter growth of 13.5% reflected strong growth in services, but GDP growth forecasts were being revised downward as price pressures were expected to adversely impact domestic consumption and sluggish global demand and elevated oil prices would likely be a drag on net exports.
The ADB pegs FY24 growth at 7.2%.
Observing that inflation had turned out to be more persistent than expected, and led to a sharp tightening in monetary policy, the ADB said price gains were eroding consumers' purchasing power.
Subsidised fertiliser and gas, the free food distribution programme, and the excise duty cuts will help offset some of the effects of high inflation on consumers, but the tax on packaged food products will likely be a burden on consumers already dealing with rising inflation.
China's economy would grow 3.3% in 2022, slower than the rest of developing Asia for the first time in three decades, marred by lockdowns triggered by its zero-COVID strategy, property sector problems and weaker external demand.
The lower growth outlook for India along with a sharp contraction in Sri Lanka would translate into slower growth for South Asia, at 6.5% in 2022, from 7% projected earlier. India accounts for 80% of the region's economy.
The ADB also expects inflation in South Asia to be pushed up by higher energy and food costs to 8.1% in 2022, faster than the 6.5% estimated earlier.
PM cares
Keeping in mind the need for having a dedicated fund with the primary objective of dealing with any kind of emergency or distress situation, like posed by the COVID-19 pandemic, and to provide relief to the affected, a public charitable trust under the name of 'Prime Minister's Citizen Assistance and Relief in Emergency Situations Fund (PM CARES Fund)' has been set up.
PM CARES Fund has been registered as a Public Charitable Trust.
Prime Minister is the ex-officio Chairman of the PM CARES Fund and Minister of Defence, Minister of Home Affairs and Minister of Finance, Government of India are ex-officio Trustees of the Fund.
The fund consists entirely of voluntary contributions from individuals/organizations and does not get any budgetary support. The fund will be utilised in meeting the objectives as stated above.
Donations to PM CARES Fund would qualify for 80G benefits for 100% exemption under the Income Tax Act, 1961.
Donations to PM CARES Fund will also qualify to be counted as Corporate Social Responsibility (CSR) expenditure under the Companies Act, 2013
PM CARES Fund has also got exemption under the FCRA and a separate account for receiving foreign donations has been opened. This enables PM CARES Fund to accept donations and contributions from individuals and organizations based in foreign countries. This is consistent with respect to Prime Minister's National Relief Fund (PMNRF). PMNRF has also received foreign contributions as a public trust since 2011.
Objectives:

To undertake and support relief or assistance of any kind relating to a public health emergency or any other kind of emergency, calamity or distress, either man-made or natural, including the creation or upgradation of healthcare or pharmaceutical facilities, other necessary infrastructure, funding relevant research or any other type of support.

To render financial assistance, provide grants of payments of money or take such other steps as may be deemed necessary by the Board of Trustees to the affected population.

To undertake any other activity, which is not inconsistent with the above Objects
Map work
Satpura National Park
Location: Hoshangabad District, Madhya Pradesh State
Year of Establishment: 2000
Prime Attractions: Sloth Bear, Black Buck, Leopard, Dhole, Indian Gaur, Malabar Giant Squirrel, Sambar, Barking Deer
Sanjay Gandhi National Park
Sanjay Gandhi National Park, also known as SGNP, is an 87 km2 (34 sq mi) protected area in Mumbai, Maharashtra.
It was established in 1969 with its headquarters situated at Borivali.
The 2400-year-old Kanheri caves, sculpted by monks out of the rocky basaltic cliffs, lie within the park.