Daily Current Affairs for UPSC CSE
UNSC Designated Terrorist
ILO report on youth employment
UNMOGIP
Criminal Procedure identification act 2022
Essential Commodities Act
Facts for Prelims
---
1 . UNSC Designated Terrorist
---
Context: China thwarted a joint India-U.S. bid to list Jaish-e-Mohammad (JeM) deputy chief as a UN Security Council-designated terrorist.
Recent developments
China placed a "technical hold" on the process, a move India called "politically motivated" and evidence of China's "doublespeak" on Pakistan-based terrorism.
Rauf Asghar is accused of masterminding a number of terror attacks in India

IC-814 hijacking in 1999
Parliament attack in 2001

Number of attacks on security forces personnel from 2014-2019.
China's decision will further strain ties between India and China which have been in a military stand-off at the Line of Actual Control since April 2020.
1267 Sanctions regime
Counter-terrorism is an important objective of UN Security Council (UNSC) sanctions adopted under Chapter VII of the UN Charter.1
The two main UNSC regimes establishing sanctions against individuals and entities suspected of terrorism are known as the 1267 regime and the 1373 regime. They impose mandatory obligations on all UN members concerning their implementation.
The 1267 sanctions regime was initially based on three UNSC resolutions.

First, UNSCR 1267 (1999), adopted following the Al-Qaeda attacks on United States (US) embassies in East Africa, imposed a limited air embargo and assets freeze on individuals and entities connected with the Taliban in Afghanistan.
Second, UNSCR 1333 (2000), extended those sanctions to individuals and entities associated with Osama Bin Laden and Al-Qaeda. This regime evolved to include asset freezes, travel bans and arms embargoes against individuals and entities named on the 1267 Sanctions List, without the requirement of any territorial connection and for a potentially unlimited period of time (UNSCR 1390 (2002)). A Sanctions Committee was established to oversee the regime. In 2011, UNSCR 1988 split the regime in two: a new Taliban sanctions regime was established alongside the Al-Qaida sanctions regime.
Finally, UNSCR 2253 (2015) extended the Al-Qaida Sanctions List to individuals and entities connected with the Islamic State of Iraq and Levant (ISIL/Da'esh), changing the title of the Sanctions Committee and of the Sanctions List, now the ISIL (Da'esh) and Al-Qaida Sanctions List.
Listing Procedure & Sanctions
Under the listing procedure, any UN member state may submit names to the Sanctions Committee to request their inclusion on the Sanctions List.
The committee approves or rejects the listing requests, unless a UNSC member objects within a certain period. All decisions of the Committee are taken through consensus.
Once an individual or entity is placed on the Sanctions List, all UN member states are obliged to implement the asset freeze, arms embargo and travel ban against them
Listing Criteria
Acts or activities indicating that an individual, group, undertaking or entity is associated with ISIL (Da'esh) and Al-Qaida include:
Participating in the financing, planning, facilitating, preparing, or perpetrating of acts or activities by, in conjunction with, under the name of, on behalf of, or in support of;
Supplying, selling or transferring arms and related materiel to;
Recruiting for; or otherwise supporting acts or activities of, ISIL (Da'esh), Al-Qaida or any cell, affiliate, splinter group or derivative thereof.
1373 Regime
The other main counter-terrorist sanctions regime was set up by the UNSC by means of Resolution 1373 (2001) in the aftermath of the attacks on 11 September, 2001.
The resolution requires states to criminalise the support of terrorism, by freezing the funds of those suspected of making financial resources available to terrorists and by introducing domestic legislation making support for terrorist acts a serious criminal offence, sanctioned accordingly. UNSCR 1373(2001) therefore establishes a 'parallel' or 'decentralised' listing system, whereby UN member states are given discretion over decisions on whom to list.
Under this regime, suspects or groups need not therefore necessarily be associated with Al-Qaeda or the Taliban, as UNSCR 1373 allows for the listing of individuals or groups as considered necessary 'to prevent and suppress the financing of terrorist acts'.
As these designations are made at national or regional level, however, individuals or groups have greater means to challenge their listing, including through judicial review. The 1373 Counter-Terrorism Committee (CTC) was established as a subsidiary body of the UNSC to monitor the implementation of the 1373 regime.
---
2 . ILO report on Youth employment
---
Context: Recently, Global Employment Trends for Youth 2022 report was released by the International Labour Organisation.
About the Report
The 2022 edition of the Global Employment Trends for Youth report was prepared by a team from the ILO Employment Policy Department
Global Employment Trends for Youth 2022: Investing in transforming futures for young people provides an update on key youth labour market indicators and trends, focusing on the impact of the COVID‑19 crisis and on how targeted and sustained investments in the green, blue, digital, creative and care economies can support a human‑centred recovery and help to improve the labour market for young people.
Key findings of the report
India experienced severe working-hour and employment losses in 2020 and 2021.
Indian youth employment deteriorated in 2021 compared with the 2020 situation.
The recovery in youth employment is still lagging globally, confirming that COVID-19 has hurt young people more than any other age group.
The pandemic has worsened the numerous labour market challenges facing those aged between 15 and 24.

Youngsters in this age group experienced a much higher percentage loss in employment than adults since early 2020.

The total global number of unemployed youth is estimated to reach 73 million in 2022, a slight improvement from 2021 (75 million), but still six million above the pre-pandemic level of 2019.
It warns that the unemployment rate of young people in the Asia and Pacific region is projected to reach 14.9% in 2022, the same as the global average, although there are important divergences between subregions and countries.
In India, school closures lasted 18 months and among the school-going children, only 8% of such children in rural areas and 23% in urban areas had adequate access to online education.
With unequal access to online resources in developing countries, children from socio-economically disadvantaged families had almost no access to education.
School closures led to the phenomenon of "learning regression", that is, children forgetting what they had learned earlier.

In India, 92% of children on average lost at least one foundational ability in language and 82% lost at least one foundational ability in mathematics.
Report appreciated the MGNREGA – It has played an important role in providing paid employment, particularly for women, but also in carbon sequestration because of focus on natural resources, such as land, water and trees, which provide adaptation benefits.
International Labour Organization
It is the only tripartite U.N. agency, since 1919.
It was created in 1919, as part of theTreaty of Versailles
ILO brings together governments, employers and workers of 187 member States , to set labour standards, develop policies and devise programmes promoting decent work for all women and men.
It helps advance the economic and working conditions that give all workers, employers and governments a stake in lasting peace, prosperity and progress.
The Organization has played a role at key historical junctures – the Great Depression, decolonization, the creation of Solidarność in Poland, the victory over apartheid in South Africa – and today in the building of an ethical and productive framework for a fair globalization.
---
3 . United Nations Military Observer Group in India and Pakistan (UNMOGIP)
---
Context: United Nations (UN) Secretary-General appointed Rear Admiral Guillermo Pablo Rios of Argentina as the Head of Mission and Chief Military Observer for the United Nations Military Observer Group in India and Pakistan (UNMOGIP).
United Nations Military Observer Group in India and Pakistan
In January 1948, the Security Council adopted resolution 39, establishing the United Nations Commission for India and Pakistan (UNCIP) to investigate and mediate the dispute between India and Pakistan.
In April 1948, by its resolution 47, the Council decided to enlarge the membership of UNCIP and to recommend various measures including the use of observers to stop the fighting. At the recommendation of UNCIP, the Secretary-General appointed the Military Adviser to support the Commission on military aspects and provided for a group of military observers to assist him.
These arrangements remained in effect until the conclusion of the Karachi Agreement on 27 July 1949 establishing a ceasefire line to be supervised by UN military observers. The Karachi Agreement specified that UNCIP would station observers where it deemed necessary, and that the ceasefire line would be verified mutually on the ground by local commanders on each side with the assistance of UN military observers. Disagreements were to be referred to the UNCIP Military Adviser, whose decision would be final.
Functions
Observe and report, investigate complaints of ceasefire violations and submit its finding to each party and to the Secretary-General.
Post 1971
At the end of 1971, hostilities broke out again between India and Pakistan.

They started along the borders of East Pakistan and were related to the movement for independence, which had developed in that region and which ultimately led to the creation of Bangladesh.

When a ceasefire came into effect on 17 December 1971, a number of positions on both sides of the 1949 ceasefire line had changed hands.
The Security Council met and adopted resolution 307 (1971), by which it demanded that a durable ceasefire in all areas of conflict remain in effect until all armed forces had withdrawn to their respective territories and to positions which fully respected the ceasefire line in Jammu and Kashmir supervised by UNMOGIP.
In July 1972, India and Pakistan signed an agreement defining a Line of Control in Kashmir which, with minor deviations, followed the same course as the ceasefire line established by the Karachi Agreement in 1949.

India took the position that the mandate of UNMOGIP had lapsed, since it related specifically to the ceasefire line under the Karachi Agreement. Pakistan, however, did not accept this position.
In case of disagreement
Given the disagreement between the two parties over UNMOGIP's mandate and functions, the Secretary-General's position has been that UNMOGIP could be terminated only by a decision of the Security Council.
In the absence of such an agreement, UNMOGIP has been maintained with the same arrangements as established following December 1971 ceasefire.
The tasks of UNMOGIP have been to observe, to the extent possible, developments pertaining to the strict observance of the ceasefire of 17 December 1971 and to report thereon to the Secretary-General.
The last report of the Secretary-General to the Security Council on UNMOGIP was published in 1972.
India's position
Since the Simla Agreement of 1972, India has adopted a non-recognition policy towards third parties in their bilateral exchanges with Pakistan over the question regarding the state of Jammu and Kashmir.
The military authorities of Pakistan have continued to lodge alleged ceasefire violations complaints with UNMOGIP.
The military authorities of India have lodged no complaints since January 1972 limiting the activities of the UN observers on the Indian-administered side of the Line of Control, though they continue to provide necessary security, transport and other services to UNMOGIP.
---
4 . Criminal Procedure identification act 2022
---
Context: The Criminal Procedure (Identification) Act, 2022was notified by Ministry of Home Affairs to come into effect from August 4, 2022. It also repeals the existing Identification of Prisoners Act, 1920.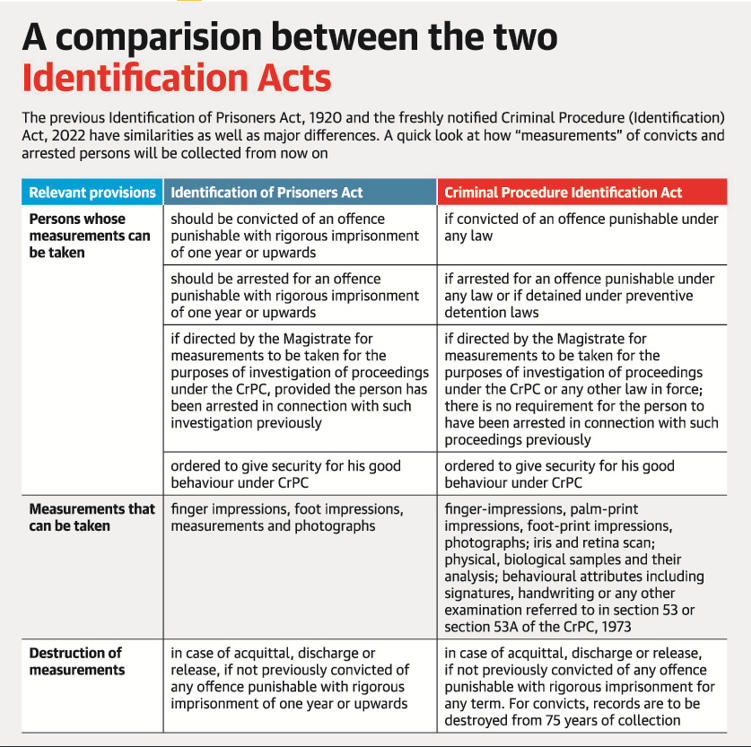 About Criminal Procedure (Identification) Act, 2022
The Criminal Procedure (Identification) Act, 2022 provides legal sanction to law enforcement agencies for "taking measurements of convicts and other persons for the purposes of identification and investigation of criminal matters". While the legislation was enacted earlier this year, the Ministry of Home Affairs notified it to come into effect from August 4, 2022. It also repeals the existing Identification of Prisoners Act, 1920.
What is the use of identification details in criminal trials? 
Measurements and photographs for identification have three main purposes. 

To establish the identity of the culprit against the person being arrested 
To identify suspected repetition of similar offences by the same person and  
To establish a previous conviction. 
Previous Identification of Prisoners Act, 1920 
Even though the police has powers of arrest, mere arrest does not give them the right to search a person. The police requires legal sanction to search the person and collect evidence. These legal sanctions are designed so as to maintain a balance between the rights of an individual and the interests of society in prosecution and prevention of offences.
The Identification of Prisoners Act, 1920 became a necessity when the recording of newer forms of evidence such as fingerprints, footprints and measurements started becoming more accurate and reliable.  
There were also increasing instances of prisoners refusing to allow their fingerprints or photographs to be recorded. Therefore, "to prevent such refusals in the future and to place the taking of measurements etc which is a normal incident of police work in India, as elsewhere, on a regular footing" it was considered necessary to enact the Identification of Prisoners Act, 1920.
Need to replace the Act
In 1980, Law Commission of India undertook a review of this legislation and recommended several amendments. This was done in the backdrop of the State of UP vs Ram Babu Misra case, where the Supreme Court had highlighted the need for amending this law.  
The first set of recommendations laid out the need to amend the Act to expand the scope of measurements to include "palm impressions", "specimen of signature or writing" and "specimen of voice".  
The second set of recommendations raised the need of allowing measurements to be taken for proceedings other than those under the Code of Criminal Procedure (CrPC). 
Law Commission Report notes that the need for an amendment is reflected by the numerous amendments made to the Act by several States. 
MHA while laying the Criminal Procedure (Identification) Bill, 2022, observed that with advancements in forensics, there was a need to recognise more kinds of "measurements" that can be used by law enforcement agencies for investigation. 
Main highlights and differences in both the legislations 
Like the Identification of Prisoners Act, 1920, the new Criminal Procedure (Identification) Act, 2022 provides for legal sanction to law enforcement agencies for the collection of measurements.  The purpose is to create a useable database of these measurements.  
At the State level, each State is required to notify an appropriate agency to collect and preserve this database of measurements. 
At the national level, the National Crime Records Bureau (NCRB) is the designated agency to manage, process, share and disseminate the records collected at the State level. 
Some concerns with the present legislation 
Concerns related to the protection of fundamental rights.

Right to Privacy: A fundamental facet of the right to privacy is protection from the invasion of one's physical privacy. 

Puttaswamy judgment: For a privacy intrusive measure to be constitutional, there is a need for the measure to be taken in pursuance of  :

Legitimate aim of the state 
Backed by the law and  
Be "necessary and proportionate" to the aim being sought to be achieved.  

In this case, while the first two tests are satisfied, as "prevention and investigation of crime" is a legitimate aim of the state and "measurements" are being taken under a valid legislation, the satisfaction of the third test of necessity and proportionality has been challenged on multiple counts. 
Need for expansion of the "measurements" is justified, but inclusion of derivative data such as "analysis" and "behavioural attributes" have raised concerns that data processing may go beyond recording of core "measurements".  Some of these measurements could be processed for predictive policing.  
Current law allows for "measurements" to be taken if a person has been convicted/arrested for any offence, including petty offences.  

The necessity of taking measurements of such persons for investigation of offences is unclear. 
Such discretion may result in abuse of the law at lower levels and overburdening of the systems used for collection and storage of these "measurements".  
These records will be stored for 75 years from the time of collection, the law has been criticised as being disproportionate. 

Collection of samples can also result in mass surveillance, with the database under this law being combined with other databases such as those of the Crime and Criminal Tracking Network and Systems (CCTNS). 
Concerns are being raised that Present law violates the right against self-incrimination enshrined in Article 20(3) of the Constitution of India. However, this argument is vague since the Supreme Court has already settled this point. In the State of Bombay vs Kathi Kalu Oghad, the Supreme Court had conclusively held that "non-communicative" evidence i.e. evidence which does not convey information within the personal knowledge of the accused cannot be understood to be leading to self-incrimination. Therefore, no challenge lies to the law on this ground. 
The good part 
New legislation allows that a person who has been arrested for an offence that is punishable by less than seven years of imprisonment, and is not an offence against women and children, may not be obliged to allow taking of his biological samples. 

This is an improvement over the earlier law which did not allow for any such refusal.  
It also helps allay concerns of disproportionate collection.  
However, given the option to not submit for "measurements" is limited to biological samples and is available at the discretion of the police officer, this exception provides restricted relief. 
---
5 . Essential Commodities Act  
---
Context: With tur dal prices surging since mid-July and traders creating artificial supply squeeze by restricting sales, the Centre has invoked the Essential Commodities Act of 1955 to ask States to monitor and verify the stocks available with such traders. 
The Essential Commodities Act, 1955 
The Essential Commodities Act (ECA) is an act of the Parliament of India that was established to ensure the delivery of certain commodities or products, the supply of which, if obstructed due to hoarding or black marketing, would affect the normal life of the people.  
This includes foodstuff, drugs, fuel (petroleum products) etc.  
This act was modified by the Essential Commodities (Amendment) Act, 2020 as part of the 2020 Indian farm reforms. 
This Act aims to regulate the production, supply and distribution of, and trade and commerce in, certain commodities, in the interest of the general public. It extends to the whole of India. 
The central government may add or remove an essential commodity from the list through a notification in The Gazette of India, if it is satisfied that it is necessary to do so in public interest.  The government may do so in consultation with the state governments.  
The notification shall specify the period for which the commodity will be deemed as an essential commodity, and the period shall not exceed six months.  The central government may extend that period beyond six months in public interest. 
Definition of an 'essential commodity'
There is no specific definition of essential commodities in The EC Act.  
Section 2(A) of the act states that an "essential commodity" means a commodity specified in the "Schedule" of this Act. The Act gives powers to the central government to add or remove a commodity in the "Schedule."  
The Centre, if it is satisfied that it is necessary to do so in public interest, can notify an item as essential, in consultation with state governments. 
At present, the "Schedule" contains 9 commodities — drugs; fertilisers, whether inorganic, organic or mixed; foodstuffs, including edible oils; hank yarn made wholly from cotton; petroleum and petroleum products; raw jute and jute textiles; seeds of food-crops and seeds of fruits and vegetables, seeds of cattle fodder, jute seed, cotton seed; face masks; and hand sanitisers. 
By declaring a commodity as essential, the government can control the production, supply, and distribution of that commodity, and impose a stock limit. 
Usage
If the Centre finds that a certain commodity is in short supply and its price is spiking, it can notify stock-holding limits on it for a specified period.  
The States act on this notification to specify limits and take steps to ensure that these are adhered to.  
Anybody trading or dealing in the commodity, be it wholesalers, retailers, or even importers, are prevented from stockpiling it beyond a certain quantity. 
A State can, however, choose not to impose any restrictions. But once it does, traders have to immediately sell into the market any stocks held beyond the mandated quantity.  
This improves supplies and brings down prices.  
In case of non-compliance:  State agencies conduct raids to get everyone to toe the line and the errant are punished.  The excess stocks are auctioned or sold through fair price shops. 
---
6 . Facts for Prelims 
---
Langya Virus 
Context: A new zoonotic virus has been discovered in China's two eastern provinces. This new type of Henipavirus is also being called Langya Henipavirus or the LayV.
About the Virus
The newly discovered virus is a "phylogenetically distinct Henipavirus", according to a recent study — A Zoonotic Henipavirus in Febrile Patients in China — published in The New England Journal of Medicine.
Henipaviruses are classified as biosafety level 4 (BSL4) pathogens.
They can cause severe illness in animals and humans, and as of now there are no licensed drugs or vaccines meant for humans.
Langya was discovered in eastern China during surveillance testing of patients who had fever along with a recent history of animal exposure.
Host: The new virus has jumped from an animal to humans. The LayV virus RNA has been predominantly found in shrews, which may be its natural hosts.
Symptoms:
The study looked at 26 patients with only LayV infection to identify the associated symptoms.
While all 26 had fever, 54% reported fatigue, 50% had cough, 38% complained of nausea.
Also, 35% complained of headaches and vomiting.
The study found that 35% had impaired liver function, while 8% had their kidney function impacted.
The patients were accompanied by abnormalities of "thrombocytopenia (35%), leukopenia (54%), impaired liver (35%) and kidney (8%) function.
National Action Plan for Mechanised Sanitation Ecosystem (NAMASTE)
Context: The Ministry of Social Justice and Empowerment (MoSJ&E) is now preparing to undertake a nationwide survey to enumerate all people engaged in hazardous cleaning of sewers and septic tanks.
About NAMASTE
It will streamline the process of rehabilitating sanitation workers and eventually merge with and replace the Self-Employment Scheme for the Rehabilitation of Manual Scavengers (SRMS), which was started in 2007. 
It is being undertaken jointly by the Ministry of Housing and Urban Affairs and the MoSJ&E  
Aim: Eradicate unsafe sewer and septic tank cleaning practices. 
Ministry has already cleared ₹360 crore for this project — to be spent over the next four years. 
Benefits under the scheme:  

Capital subsidies of up to ₹5 lakh on sanitation machinery costing up to ₹15 lakh  
Interest subsidies on loans, where interest rates will be capped between 4-6% for the beneficiaries. 
Self-Employment Scheme for the Rehabilitation of Manual Scavengers (SRMS)
Context: National Action Plan for Mechanised Sanitation Ecosystem (NAMASTE) will streamline the process of rehabilitating sanitation workers and eventually merge with and replace the Self-Employment Scheme for the Rehabilitation of Manual Scavengers (SRMS), which was started in 2007.
About the scheme
Introduced in January 2007 
Objective: Rehabilitate the remaining manual scavengers and their dependents in alternative occupations by March 2009.  
However, as this could not be done by the target date, the Scheme was extended up to March, 2010, with a provision for the coverage of spill-over of beneficiaries even thereafter, if required.  
As per the reports about 1.18 lakh manual scavengers and their dependents in 18 States/UTs were identified for implementation of the Scheme.  
After the enactment of 'Prohibition of Employment as Manual Scavengers and their Rehabilitation Act, 2013', SRMS was revised in synchronization with the provision of the Act.  
Major provisions: 

As per the revised Scheme, identified manual scavengers, one from each family, are provided one-time cash assistance.  
The identified manual scavengers and their dependents are provided project based back-ended capital subsidy up to Rs. 3,25,000 and concessional loan for undertaking self-employment ventures.  
Beneficiaries are also provided training for skill development for a period up to two years, during which a stipend of Rs. 3,000 per month is also provided.