Daily Current Affairs for UPSC CSE
Topics Covered
Disqualification under RPA Act
Audiovisual coproduction treaty between India and Australia  
Electricity amendment bill 2020
Facts for Prelims
---
1 . Disqualification provided under RPA Act
---
Context: The Supreme Court would consider a plea seeking a lifetime ban on people convicted of offences from contesting elections and becoming MPs and MLAs.
About the Case and Background
According to the petition even a constable can lose his job after conviction however a convicted MP or MLA could come back after the six-year ban and make laws.
The Centre, in an affidavit filed in 2020, maintained in court that disqualification under the Representation of the People Act of 1951 for the period of prison sentence and six years thereafter was enough for legislators.
In its affidavit in December 2020, the Ministry had rejected the idea of a lifetime ban on convicted persons contesting elections or forming or becoming an office-bearer of a political party. The Ministry had reasoned that MPs and MLAs were not bound by specific "service conditions". "They are bound by their oath to serve citizens and country… They are bound by propriety, good conscience and interest of the nation," the Ministry had argued.
The Centre had attempted to buttress its case last year by citing a Constitution Bench decision in the Public Interest Foundation case of 2019, which said "though criminalisation of politics is a bitter manifest truth, which is a termite to the citadel of democracy, be that as it may, the court cannot make the law".
But the Centre's stand in 2020 contradicted that of the Election Commission of India. In 2017, the poll body endorsed the call for a life ban in the top court. Such a move would "champion the cause of decriminalisation of politics", it had said.
About The Representation of the People Act, 1951
The Representation of the People Act, 1951 is an act of Parliament of India to provide for :

Conduct of election of the Houses of Parliament and to the House or Houses of the Legislature of each State,
Qualifications and disqualifications for membership of those Houses
Corrupt practices and other offences at or in connection with such elections and
Decision of doubts and disputes arising out of or in connection with such elections.

It was introduced in Parliament by Dr. B.R. Ambedkar.
It was enacted by the provisional parliament under Article 327 of Indian Constitution, before the first general election.
Amendments
The act has been amended several times, but some of the notable amendments include
Representation of the People (Amendment) Act, 1966: It abolished the election tribunals and transferred the election petitions to the high courts whose orders can be appealed to the Supreme Court. However, election disputes regarding the election of President and Vice-President are directly heard by the Supreme Court.
Representation of the People (Amendment and Validation) Act, 2013 – A person in police custody or in jail can file a nomination for an election as long as his name is entered on the electoral roll, even if a person is prohibited from voting.
Disqualification on conviction for certain offences – Section 8 of RPA Act
Section 8(1) states that a person convicted of an offense punishable under

Section 153A i.e. offense of promoting enmity between different groups on ground of religion, race, place of birth, residence, language, etc., and doing acts prejudicial to maintenance of harmony or Section 171E i.e. offense of bribery or Section 171F i.e. offense of undue influence or any offense relating to rape given in Section 376 or offense of cruelty towards a woman by husband or any relative of husband or subsection (2) or (3) of Section 505 which states offense of making statement creating or promoting enmity, hatred or ill-will between classes or offense relating to such statement in any place of worship or in any assembly engaged in the performance of religious worship or religious ceremonies; of the Indian Penal Code (45 of 1860).

Other offenses which if committed by a candidate will lead him to disqualification

Protection of Civil Rights Act, 1955 which provides for preaching and practice of untouchability.
Section 11 of the Customs Act, 1962 which states the offense of importing and exporting of prohibited goods.
Sections 10 to 12 of Unlawful Activities (Prevention) Act, 1967 i.e. offense of being a member of an unlawful association.
Foreign Exchange (Regulation) Act, 1973 (46 of 1973)
The Narcotics Drugs and Psychotropic Substances Act, 1985
Section 2 (offence of insulting the Indian National Flag or the Constitution of India) or
Section 3 (offence of preventing singing of National Anthem) of the Prevention of Insults to National Honour Act, 1971

The Prevention of Corruption Act, 1988

A person convicted for the contravention of—

Any law providing for the prevention of hoarding or profiteering; or
Any law relating to the adulteration of food or drugs; or
Any provisions of the Dowry Prohibition Act, and sentenced to imprisonment for not less than six months, shall be disqualified from the date of such conviction and shall continue to be disqualified for a further period of six years since his release.

Section 8 (3) states that a person convicted of any offence and sentenced to imprisonment for not less than two years other than any offence referred to in sub-section (1) or sub-section (2) shall be disqualified from the date of such conviction and shall continue to be disqualified for a further period of six years since his release.
---
2 . Audiovisual coproduction treaty between India and Australia
---
Context: Union Cabinet has approved the signing of an Audio Visual Co-production Treaty between India and Australia, which is aimed at facilitating joint production of films between the two countries.
Key Highlights
Audio visual co-production treaties are enabling documents which facilitate co-production of films between two countries.
Under such agreements, private, quasi-government or governmental agencies enter into contracts to produce films together.
India has so far signed 15 audio visual co-production treaties with other countries.
Australia has emerged as a preferred destination for shooting Indian films.
India is fast emerging as a major content hub for film-makers looking for new projects.
India has abundance of exotic locations, talent pool and relatively cheaper cost of production, making it a favored destination of foreign film-makers.
According to the treaty, the respective contributions of the producers of the two countries may vary from 20% to 80% of the final total cost of the jointly produced work.
Significance
It will boost ties with Australia, lead to exchange of art and culture.
Showcase the soft power of our country and
Lead to generation of employment among artistic, technical as well as non-technical personnel engaged in audio visual co-production, including production and post-production work.
The use of Indian locations would increase the prospects of the country becoming a preferred film-shooting destination.
It will lead to an inflow of foreign exchange.
Australia- India relationship
Historical Contacts
India and Australia have commercial ties dating back to the 18th century, when India played a central role in nourishing the young colony and trade with Australia came to be an important element in the operations of the East India Company in Bengal.
India was an important source of food and provisions for Australia.
At the beginning of the 19th century, several British colonial families from India made a life for themselves in the new Australian colonies.
The Consulate General of India in Sydney was first opened as a Trade Office in 1941 and the High Commission in Canberra in 1945.
Political and Economic
Australia has placed India at the forefront of its international partnerships.
Both governments recognise there is significant potential for further cooperation across a broad range of areas.
Both nations affirmed the Strategic Partnership agreed to in 2009.
India is Australia's seventh-largest trading partner and our fifth-largest export market.
Major exports to India: coal, copper and gold.
Major imports from India: refined petroleum, pearls and gems, and medicaments.
Both nations are seeking to deepen bilateral trade and investment links through the Comprehensive Economic Cooperation Agreement.
Defence Engagement
Australia and India have a positive defence relationship, underpinned by the 2006 Memorandum on Defence Cooperation and the 2009 Joint Declaration on Security Cooperation.
Key platforms for strategic dialogue include the annual Defence Policy Talks and the annual 1.5 Track Defence Strategic Dialogue.
Senior visits also occur on a regular basis.
Australia and India continue to build robust people-to-people links between our defence forces through regular personnel and training exchanges, such as short specialist courses and longer-term positions.
Australia and India are committed to working together to enhance maritime cooperation, with the first formal bilateral naval exercise (AUSINDEX) held off the coast of Visakhapatnam in 2015.
Practical cooperation between Australia and India is evident through joint participation in a range of activities.

Australia participated in the Indian-hosted Exercise MILAN 2014, which included the opportunity to cooperate with India and other regional Navies.
In June 2015, two Indian Navy ships Satpura and Kamorta visited Fremantle in Western Australia, coinciding with a visit by the Indian Navy's Eastern Naval Commander.
Education and Training
The Department of Education and Training works with the education sector, other government agencies and ministries to ensure Australia is recognised as a regional and world leader in education and a partner of choice for international collaboration.
Australia-India Council
It was established by the Australian Government in May 1992.
Objective: To broaden and deepen Australia-India relations through contacts and exchanges in a range of fields that promote mutual awareness and understanding.
It is a non-statutory body with a Chairman and a Board appointed by the Government on a part-time basis for three years.
The AIC is serviced by a secretariat in Canberra, while the Australian High Commission in New Delhi manages the AIC's activities in India.
---
3 . Electricity amendment bill 2020
---
Context: The Union Power Ministry introduced the Electricity (Amendment) Bill, 2022 in Lok Sabha. The Opposition questioned the introduction of the Bill alleging that it is not just anti-farmer, but also anti-Constitutional and against the interest of States.
What is the history of Bill?
The Electricity Bill was brought for the first time and passed in Parliament in 2003.

Aim: Consolidate the laws relating to generation, transmission, distribution, trading and use of electricity.
Objective:

Protect the interest of consumers and supply of electricity to all areas
Rationalisation of electricity tariff
Transparent policies regarding subsidies etc.

The Act resulted in privatization of distributing companies.
It was again amended in 2007

The provisions for "cross subsidy" – ensuring subsidy to poor households was added to the Bill in 2007.

There were attempts to amend the Bill further in 2014, 2017, 2018, 2020 and 2021.
All of those Bills remained in their draft form.
Why is there opposition to the Bill?
Opposition from farmers' groups: They fear that the Bill will stop subsidies and power distribution will thereafter be under the control of private companies.
Opposition from workers in the power sector:

Privatisation of distribution companies and generating units will result in job losses.
The Opposition parties questioned the Bill on federalist principles.

Power or electricity comes under the Concurrent List of the Constitution, and the Centre should have consulted the States before bringing the Bill.
Bill paves way for privatization of profits and the nationalization of losses.
Main amendments to the Act
For consumers, the Bill has proposed to amend Sections 42 and 14 of the Electricity Act, thus, enabling competition in retail distribution of power by offering the customers the option to choose electricity suppliers, just like they can choose telephone or internet service providers. The amended Section 14, the Bill says, will "facilitate the use of distribution networks by all licensees under provisions of non-discriminatory open access", while Section 42 will be ameded to "facilitate non-discriminatory open access to the distribution network of a distribution licensee".
The Bill, with the amendment of Section 62 of the Act, makes provision for "mandatory" fixing of minimum as well as maximum tariff ceilings by the "appropriate commission" to avoid predatory pricing by power distribution companies and to protect consumers.
Also, the amendment Bill has several provisions to ensure graded and timely tariff revisions that will help provide state power utilities enough cash to be able to make timely payments to power producers. This move is aimed at addressing the recurrent problem of default by distribution companies in payment to generation companies.
The bill through amendments in Section 166 of the Act also seeks to strengthen payment security mechanisms and give more powers to regulators. "It has become necessary to strengthen the regulatory mechanism, adjudicatory mechanism in the Act and to bring administrative reforms through improved corporate governance of distribution licensees," according to the bill
---
4 . Facts for Prelims
---
Global Summit for Democracy
Context: The Election Commission of India would host a virtual meeting of the Asian Regional Forum on the theme of inclusive and accessible elections, as a precursor to the 'Global Summit for Democracy'.
Global Summit for Democracy
It will be hosted by the National Electoral Institute of Mexico.
Aim:

Generate synergy amongst international organizations, electoral bodies from the world and
Promote intellectual and institutional mobilization to strengthen electoral democracy in the world.

The Commission of Global Notables
Context: Mexican President has proposed the setting up of a commission.
About the Commission
It will comprise Indian Prime Minister, Pope Francis and the UN Secretary General Antonio Guterres.
It will preside over five years of global truce in order to halt the various conflicts that are currently raging in the world.
It shows the significance of India under the present regime under PM Modi. We have to admit that India's soft power is ever increasing.
Indian PM has received high honors from the United Arab Emirates, Russia, Saudi Arabia, Bhutan and several other countries since the beginning of his first stint in May 2014.
He has also received awards from international non-government organizations.
Pradhan Mantri Awas Yojana-Urban
Context: The Union Cabinet approved an extension to the Pradhan Mantri Awas Yojana-Urban.
About the scheme
Launched in 2015
Aim: Constructing over 112 crore homes in urban areas by August 15, 2022.
Nodal Ministry: Ministry of Housing and Urban Affairs (MoHUA)
It addresses urban housing shortage among the EWS/LIG and MIG categories including the slum dwellers by ensuring a pucca house to all eligible urban households by the year 2022.
It adopts a demand driven approach wherein the Housing shortage is decided based on demand assessment by States/Union Territories.
PMAY(U) adopts a cafeteria approach to suit the needs of individuals based on the geographical conditions, topography, economic conditions, availability of land, infrastructure etc.
Main stakeholders: State Level Nodal Agencies (SLNAs), Urban Local Bodies (ULBs)/ Implementing Agencies (IAs), Central Nodal Agencies (CNAs) and Primary Lending Institutions (PLIs)
The Cabinet approved an extension till December 31, 2024, so that the houses already sanctioned are completed.
The Housing and Urban Affairs Ministry has so far sanctioned 122.69 crore houses
Of which 102.59 crore have been grounded and
61.77 crore have been delivered as on August 1.
Components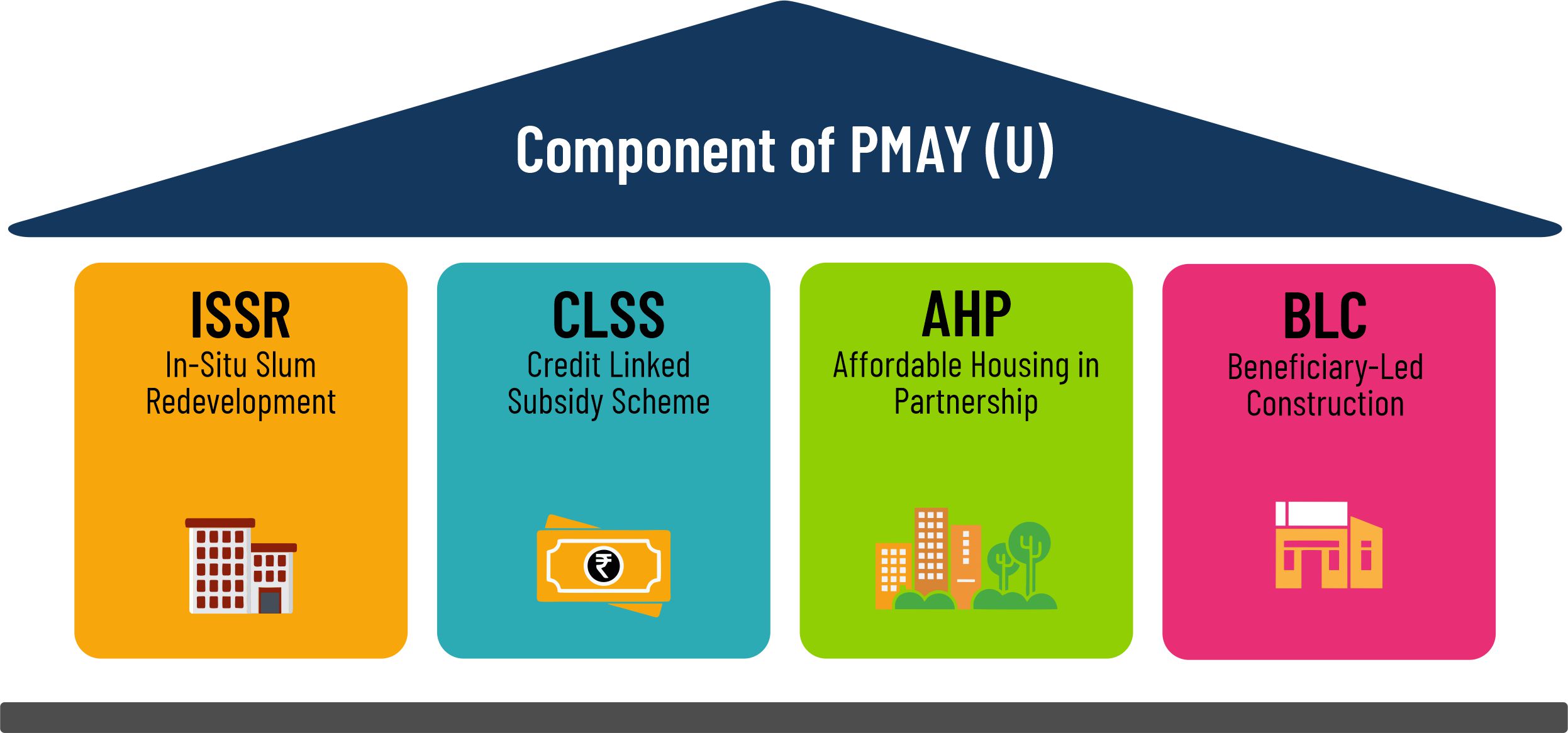 Rule 267
Context: Vice-President expressed concern over invoking Rule 267 which allows for suspension of all other rules for taking certain issues of importance.
What is Rule 267 in Rajya sabha?
Under Rajya Sabha's Rule 267, any member, can with the consent of the Chairperson, move that any rule may be suspended in its application to a motion related to the business listed before the Council of that day and if the motion is carried, the rule in question shall be suspended for the time being.
It means that a notice issued under rule 267 seeks to set aside the upper house's listed business of the day to discuss the subject raise by one or more members.
Any member of Rajya Sabha can issue a notice to the Chairperson for a discussion on any subject under Rule 267.
Exception:

The rule will not apply where specific provisions already exist for suspension of a rule under a particular chapter of the Rules

The Lok Sabha has the adjournment motion, through which members may demand discussion on unlisted matters they deem important.
Compoundable offense
Context: Former President Ram Nath Kovind assented to a 2019 legislation passed by the Madhya Pradesh Assembly that made the criminal offenses of dowry harassment, rioting and use of obscene words compoundable offenses.
What are Compoundable Offences
Compoundable offenses are those offenses where the complainant (one who has filed the case, i.e. the victim), enters a compromise, and agrees to have the charges dropped against the accused.
However, such a compromise should be a "Bonafide," and not for any consideration to which the complainant is not entitled to.
Section 320 of the CrPC looks at the compounding of offences.
Compoundable offenses are less serious criminal offences
Types of compoundable offence mentioned in Section 320 of the Criminal Procedure Code:
Court permission is not required: These are the offenses, compounding of which do not require prior permission of the court.  Examples: Adultery, Causing hurt, Defamation, Criminal trespass, etc. 
Court permission is required:These are the offences, compounding of which require prior permission of the court.  Examples: Theft, Criminal breach of trust, Voluntarily causing grievous hurt,  Assault on a woman with the intention to outrage her modesty, Dishonest misappropriation of property amongst others, etc. 
Application for compounding the offence shall be made before the same court before which the trial is proceeding.  
Once an offence has been compounded it shall have the same effect, as if, the accused has been acquitted of the charges. 
Lumpy Skin Disease
Lumpy skin disease is caused by the lumpy skin disease virus (LSDV), a member of the Capripoxvirus (CaPV) within the Poxviridae family — the same family which causes monkeypox. It is "an emerging threat to livestock worldwide".
It is genetically related to the goatpox and sheeppox virus family.
Survey's Conducted by RBI
Consumer confidence Survey – The CCS asks people across 19 cities about their current perceptions (vis-à-vis a year ago) and one-year ahead expectations on the general economic situation, employment scenario, overall price situation and own income and spending. The latest round of the survey was conducted from July 07 to July 14, 2022, covering 6,083 responses. Based on the responses, the RBI comes up with two indices: the Current Situation Index (CSI) and the Future Expectations Index (FEI).
Inflation Expectation Survey – This is another key survey for the RBI. It tracks people's expectations of inflation. The biggest worry during phases of rapid inflation is that if inflation is not controlled soon, it can lead to people getting into the habit of expecting high inflation; that, in turn, alters people's economic behaviour. Often central bank heads can be found saying they want to prevent people's inflation expectations from becoming "unanchored".
OBICUS Survey – OBICUS stands for "Order Books, Inventories and Capacity Utilisation Survey". This survey covered 765 manufacturing companies in an attempt to provide a snapshot of demand conditions in India's manufacturing sector from January to March 2022
Industrial Outlook survey – Just like the CCS tries to suss out consumer confidence, this survey tries to track the sentiments of the businessmen and businesswomen. "The survey encapsulates qualitative assessment of the business climate by Indian manufacturing companies for Q1:2022-23 (April, May and June) and their expectations for Q2:2022-23 (July, August and September)," according to the RBI.
Service Infrastructure outlook survey – Again, much like the CCS and IOS above, this survey does a qualitative assessment of how Indian companies in the services and infrastructure sectors view the current situation and the future prospects. This round of SIOS surveyed 758 companies on their assessment for Q1:2022-23 and expectations for Q2:2022-23. The questions were on parameters relating to demand conditions, price situations and other business conditions.
Bank Lending Survey – This survey captures the mood — qualitative assessment and expectations — of major scheduled commercial banks (SCBs) on credit parameters (viz., loan demand and terms & conditions of loans) for major economic sectors.
Survey of Professional Forecasters – Lastly, there is a survey of 42 professional forecasters (outside the RBI) on key macroeconomic indicators such as GDP growth rate and inflation rate in the current year and the next financial year.