Daily Current Affairs for UPSC CSE
Topics Covered
Irrational Freebies offered during election 
India's Nationally Determined Contribution
Central Vigilance Commission
Bill on Energy Conservation
FRP
Minerals Security Partnership
Facts for Prelims
---
1 . Irrational Freebies offered during election 
---
Context : The Supreme Court on Wednesday said Parliament may not be able to effectively debate the issue of doing away with "irrational freebies" offered to voters during elections, saying the "reality" is that not a single political party wants to take away freebies.
Background
The Supreme Court was hearing a plea seeking direction to seize election symbols and deregister political parties that promised to distribute irrational freebies from public funds.
Last week it asked the central government to take a stand on the need to control the issue of political parties promising to distribute irrational freebies from public funds during elections campaigns. It had asked the Centre to consider whether the suggestions of the Finance Commission can be sought for a solution.
Centre informed SC that these freebies were paving the way for an "economic disaster" besides "distorting the informed decision of voters". It substantially and in principle" supported doing away with the practice of promising freebies to voters.
The Election Commission had told the Supreme Court that it was held in previous judgments that a manifesto was part of the promises of a political party and suggested that the central government could bring in a law to deal with the issue.
The top court had observed that promising freebies is a serious issue which may influence the electorate and affect the fairness of polls.
Suggestions made by the court
The Supreme court has suggested setting up a specialised body to examine the problem of freebie culture. 
The court directed the parties to make "suggestions for the composition of a body".  
It proposed that this body could examine ways to resolve the issue of freebies and file a report before the Centre or the Election Commission of India (ECI).
What is Freebie? 
The phrase freebie owes its etymology to 1920s American politics.  
Freebie politics is effectively electoral insurance paid for with taxpayer money.
The term Freebies is not new; rather it is a prevalent culture in Indian politics (in the name of socialism).   
The political parties are always trying to outdo each other in luring the Indian voters with assorted freebies. From free water to free smartphones the Indian politicians promise everything to attract prospective voters in favour. 
This trend has gained more momentum in recent times with the political parties being innovative in their offerings as the 'traditional free water and electricity is no longer sufficient as election goodies. 
Difference between Freebies and Public / Merit Goods
Expenditure on public/merit goods brings economic benefits, such as the public distribution system, employment guarantee schemes, states' support for education and health.
On the other hand, provision of free electricity, free water, free public transportation, waiver of pending utilitybills and farm loan waivers are often regarded as freebies, which potentially undermine credit culture, distort prices through cross-subsidisation eroding incentives for private investment, and is incentivise work at the current wage rate leading to a drop in labour force participation.
Freebies and their impact 
Impact on Elections

Promising freebies is a serious issue which may influence the electorate and affect the fairness of polls.
It claimed that promise or distribution of irrational freebies from public funds before elections could unduly influence the voters, shake the roots of a free and fair election, and disturb the level playing field, besides vitiating the purity of the election process.

Impact on State finances:  

RBI in its annual report has cautioned that rising subsidy burdens have stretched stat government finances already exacerbated by Covid-19. New sources of risks have emerged in the form of rising expenditure on non-merit freebies, expanding contingent liabilities, and the ballooning overdue of discoms
Data shows Gujarat, Punjab and Chhattisgarh spend more than 10% of their revenue expenditure on subsidies, which are known to crowd out resources from other useful purposes. Recently, state governments have started disbursing a portion of their grants as freebies

Impact on Democracy

People tend to vote for parties based on the incentives offered by them. They don't judge their performance and hence undermine democracy. 
It creates a feeling among the masses that they can live with minimal effort. It ultimately leads to a fall in production.  Eg: Agriculture Sector 

Impact on Banking Sector

Freebie culture has put immense pressure on the Banking sector which is already reeling from the crisis of Non-Performing Assets. 

Exploitation of Resources

Free water and electricity create stress on the water table and lead to over exploitation. Eg: In states of Punjab and Haryana. 
Way ahead 
There is need to strengthen internal party democracy so that promises of development are made in the elections.  
 Empower Election Commission to deregister a political party, power of contempt etc.  

This would curtail distribution of liquor and other goods during elections and ensure expenditure as per the desired limit. 

Government should use the money spent on freebies towards job creation and infrastructure development. 
The focus should be on improving public expenditure efficiency.  
Decrease the magnitude of black economy.  

It affects the fiscal pool of government and leads to suboptimal spending thereby enhancing the tilt towards freebies to lure voters.  

Eradication of unnecessary freebie culture requires an attitudinal change among the masses.  
---
---
2 . India's Nationally Determined Contribution (NDC) 
---
Context: The Union Cabinet approved India's updated Nationally Determined Contribution (NDC) to be communicated to the United Nations Framework Convention on Climate Change (UNFCCC).
About Nationally Determined Contribution
NDC means national plans and pledges made by a country to meet the goal of maintaining global temperature increases to well below 2 degrees Celsius above pre-industrial levels, while aiming for 1.5 degrees Celsius to avoid the worst impacts of climate change
India's 2015 NDC
The 2015 NDC comprised eight goals; three of these have quantitative targets upto 2030 :

A 33 to 35 per cent reduction in emissions intensity (or emissions per unit of GDP) from 2005 levels
At least 40 per cent of total electricity generation to come from non-fossil renewable sources
An increase in forest cover to create an additional carbon sink of 2.5 to 3 billion tonnes of carbon dioxide equivalent
Revised NDC
India at the 26th  session of the Conference of the Parties (COP26) to the United Nations Framework Convention on Climate Change (UNFCCC) held in Glasgow, United Kingdom during November 2021, expressed to intensify its climate action by presenting to the world five nectar elements (Panchamrit) of India's climate action.
This update to India's existing NDC translates the 'Panchamrit' announced at COP 26 into enhanced climate targets. The update is also a step towards achieving India's long term goal of reaching net-zero by 2070. 
As per the updated NDC, India now stands committed to reduce Emissions Intensity of its GDP by 45 percent by 2030, from 2005 level and achieve about 50 percent cumulative electric power installed capacity from non-fossil fuel-based energy resources by 2030. The updated NDC also represents the framework for India's transition to cleaner energy for the period 2021-2030.
The once cleared by cabinet missed on three other 'Panchamrit' pledges — reduce the total projected carbon emissions by one billion tonnes from now till 2030, India to achieve net zero by 2070 and India will take its non-fossil fuel energy capacity to 500 GW by 2030.
Government's Panchamrit Targets
India will increase its non-fossil energy capacity to 500 GW (gigawatt) by 2030 
It will meet 50% of its energy requirements from "renewable energy" by 2030; 
It will reduce the total projected carbon emissions by one billion tonnes from now till 2030
It will reduce the carbon intensity of its economy by more than 45%; and  
It will achieve the target of "net zero" by the year 2070, when there will be no net carbon dioxide emitted from energy sources.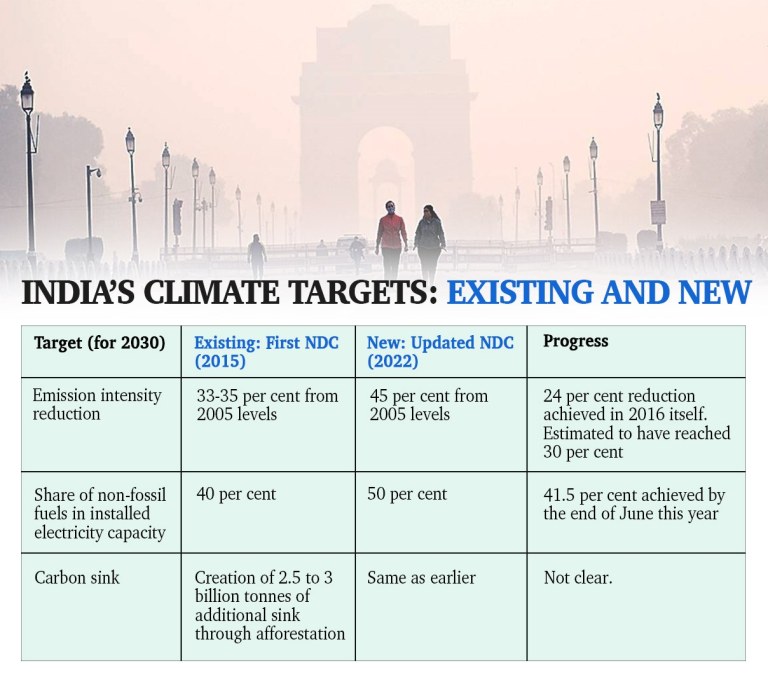 India's Performance 
India has achieved its NDC target with a total non-fossil-based installed energy capacity of 157.32 GW which is 40.1% of the total installed electricity capacity. 
At COP 21, India committed to achieving 40% of its installed electricity capacity from non-fossil energy sources by 2030. 
The country's installed Renewable Energy (RE) capacity stands at 150.54 GW (solar: 48.55 GW, wind: 40.03 GW, Small hydro Power: 4.83, Bio-power: 10.62, Large Hydro: 46.51 GW) as on 30.11.2021 while its nuclear energy-based installed electricity capacity stands at 6.78 GW. 
This brings the total non-fossil-based installed energy capacity to 157.32 GW which is 40.1% of the total installed electricity capacity of 392.01 GW. 
Constitutional provisions related to Environment 
Directive Principles of State Policy (Part IV) Article 48A 

Protection and improvement of environment and safeguarding of forests and wildlife. The State shall endeavor to protect and improve the environment and to safeguard the forests and wildlife of the country.  

Fundamental duties (Part IV A) Article 51A 

To protect and improve the natural environment including forests, lakes, rivers, and wildlife, and to have compassion for living creatures.

Article 253 of the Constitution: Empowers the Parliament of our country to make laws that can be applicable to the whole or any territory of the country for implementing any agreement or convention signed with the other country or countries. 
Article 21 extends to have a decent standard of living and a clean and safe environment. 
---
---
3 . Central Vigilance Commission 
---
Context: Suresh N. Patel was sworn in as the Central Vigilance Commissioner (CVC) by President. 
About Central Vigilance Commission
The Central Vigilance Commission was set up by the Government in February,1964. 
Recommended by: Shri K. Santhanam Committee to advise and guide Central Government agencies in the field of vigilance. 
CVC are conceived to be the apex vigilance institution, free of control from any executive authority, monitoring all vigilance activity under the Central Government and advising various authorities in Central Government organizations in planning, executing, reviewing and reforming their vigilant work. 
Consequent upon promulgation of an Ordinance by the President, the Central Vigilance Commission has been made a multi member Commission with "statutory status" with effect from 25th August,1998. 
The CVC Bill was passed by both the houses of Parliament in 2003 and the President gave its assent on September 11, 2003. Thus the Central Vigilance Commission Act 2003 (No45 0f 2003) came into effect from that date. 
The CVC is not controlled by any Ministry/Department. It is an independent body which is only responsible for the Parliament.
Vision 
As the apex integrity institution, the Commission is mandated to fight corruption and to ensure integrity in public administration.
Mission 
To promote integrity in the governance processes by:
Creation of a credible deterrence against corruption through prompt enforcement of anti-corruption laws and regulations
Undertaking effective preventive measures to minimize the scope of corruption.
Raising public awareness to inculcate ethical values and reduce society's tolerance towards corruption.
Composition of Commission
The Commission shall consist of: 

A Central Vigilance Commissioner – Chairperson; 
Not more than two Vigilance Commissioners – Members 
Appointment & Term
Appointment : The Central Vigilance Commissioner and the Vigilance Commissioners are appointed by the President on the recommendations of a Committee consisting of the Prime Minister (Chairperson), the Minister of Home Affairs (Member) and the Leader of the Opposition in the House of the People (Member). 
Term : The term of office of the Central Vigilance Commissioner and the Vigilance Commissioners is four years from the date on which they enter their office or till they attain the age of 65 years, whichever is earlier. 
Removal

Subject to the provisions of sub-section (3), the Central Vigilance Commissioner or any Vigilance Commissioner shall be removed from his office only by order of the President on the ground of proved misbehaviour or incapacity after the Supreme Court, on a reference made to it by the President, has, on inquiry, reported that the Central Vigilance Commissioner or any Vigilance Commissioner, as the case may be, ought on such grounds be removed
Subsection 3 – States that CVC can be removed if – ;

is adjudged an insolvent
has been convicted of an offence which, in the opinion of the Central Government, involves moral turpitude
Engages during his term of office in any paid employment outside the duties of his offices
in the opinion of the President, unfit to continue in office by reason of infirmity of mind or body; or
has acquired such financial or other interest as is likely to affect prejudicially his functions as a Central Vigilance Commissioner or a Vigilance Commissione
Functions of CVC 
The Central Vigilance Commission shall have the following functions and powers, namely.-
To inquire or cause an inquiry or investigation to be made on a reference made by the central Government wherein it is alleged that a public servant being an employee of the Central Government or a corporation ,established by or under any Central Act. Government company, society and any local authority owned or controlled by that Government, has committed an Offence under the Prevention of Corruption Act- 1988.
To cause an inquiry or investigation to be made into any complaint against any official belonging to the, following category of officials, namely:-

Group 'A' Officers of the Central Government; such level of officers of the Corporations established by or under any Central Act, Government companies, societies and other local authorities, owned or controlled by the Central Government, as that Government may, by notification in the Official Gazette, specify in this behalf, wherein it is alleged that such official has committed an offence under the Prevention of Corruption Act, 1988;
review the progress of applications pending with the competent authorities for sanction of prosecution under the Prevention of Corruption Act 1988;

tender advice to the Central Government, corporations established by or under any Central Act, Government companies, societies and local authorities owned or controlled by the Central Government on such matters as may be referred to it by that Government, said Government companies, societies and local authorities owned or controlled by the Central Government or otherwise;
exercise superintendence over the vigilance administration of the various Ministries of the Central Government or corporations established by or under any Central Act,Government companies, societies and local authorities owned or controlled by that Government.
The Commission has no jurisdiction over private individuals and State Governments.
Investigation in a case
CVC is not an investigating agency
The CVC either gets the investigation done through the CBI or through chief vigilance officers (CVO) in government offices. 
---
---
4 . Bill on energy conservation 
---
Context: Power Minster introduced a Bill on Energy Conservation. 
Key provisions of the Bill  
Bill makes it mandatory for buildings with a minimum connected load of 100 kilowatt (kW) to meet their energy requirements from renewable sources. 
It has provisions to establish carbon markets and empower state electricity regulatory commissions to make regulations for a smooth discharge of its functions. 
In the endeavour to empower the state electricity regulatory commissions, the bill would allow the state commissions to make regulations in terms of making applications to the commission and the fees payable. 

The bill would empower state governments to make rules regarding fees to be levied for the services rendered by the designated agency for promoting efficient use of energy and its conservation along with the preparation of the budget of the designated agency. 

State governments shall constitute a fund called the 'State Energy Conservation Fund' for the purposes of promotion of efficient use of energy and its conservation within the state.  

The fund would be credited by grants and funds by the state government, Centre and any other organisation or individual. 

Bill enlarges BEE into a large body to ensure participation of other departments in its functioning. 
The Bill seeks to mandate the use of non-fossil sources, including green hydrogen, green ammonia, biomass and ethanol for energy and feedstock. 
It also proposes to enhance the scope of Energy Conservation Building Code and bring large residential buildings within the ambit of energy conservation regime. 
Reasons for the amendments 
With the passage of time, and in the context of energy transition with special focus on promotion of new and renewable energy and National Green Hydrogen Mission, a need has arisen to further amend the said Act. 
To facilitate climate targets committed at COP26 summit, promote renewable energy and development of domestic carbon market to battle climate change and mandate use of non-fossil sources to ensure faster decarbonization of Indian economy  
It will help in achieving sustainable development goals in line with the Paris Agreement. 
There is need to provide legal framework for a carbon market with the objective of incentivizing actions for emission reduction leading to increased investments in clean energy and energy efficiency areas, by the private sector. 
---
---
5 . Fair & Remunerative Prices
---
Context : Centre has increased Fair and Remunerative Prices on sugarcane
About Fair & Remunerative Price
The pricing of sugarcane is governed by the statutory provisions of the Sugarcane (Control) Order, 1966 issued under the Essential Commodities Act (ECA), 1955.
Prior to 2009-10 sugar season, the Central Government was fixing the Statutory Minimum Price (SMP) of sugarcane and farmers were entitled to share profits of a sugar mill on 50:50 basis.
As this sharing of profits remained virtually unimplemented, the Sugarcane (Control) Order, 1966 was amended in October, 2009 and the concept of SMP was replaced by the Fair and Remunerative Price (FRP) of sugarcane.
A new clause 'reasonable margins for growers of sugarcane on account of risk and profits' was inserted as an additional factor for working out FRP and this was made effective from the 2009-10 sugar season.
Accordingly, the CACP is required to pay due regard to the statutory factors listed in the Control Order, which are :

the cost of production of sugarcane;
the return to the grower from alternative crops and the general trend of prices of agricultural commodities;
the availability of sugar to the consumers at a fair price;
the price of sugar;
the recovery rate of sugar from sugarcane;
the realization made from sale of by-products viz. molasses, bagasse and press mud or their imputed value
reasonable margins for growers of sugarcane on account of risk and profits
Benefits
Under the FRP system, the farmers are not required to wait till the end of the season or for any announcement of the profits by sugar mills or the Government.
The new system also assures margins on account of profit and risk to farmers, irrespective of the fact whether sugar mills generate profit or not and is not dependent on the performance of any individual sugar mill.
---
---
6 . Minerals Security Partnership
---
Context : The Union Finance Ministry is learnt to have communicated with the Ministry of External Affairs to explore the possibility of how New Delhi can join the 11-member group, Minerals security partnership
About Minerals Security Partnership
The new grouping, industry insiders say, could focus on the supply chains of minerals such as Cobalt, Nickel, Lithium and also the 17 "rare earth" minerals.
While Cobalt, Nickel and Lithium are required for batteries used in electric vehicles, rare earth minerals are critical, in trace amounts, in the semiconductors and high-end electronics manufacturing.
This new alliance is seen as being primarily focused on evolving an alternative to China, which has created processing infrastructure in rare earth minerals and has acquired mines in Africa for elements such as cobalt.
The new MSP grouping is aimed at catalysing investment from governments and the private sector for strategic opportunities.
Besides the US, the MSP includes Australia, Canada, Finland, France, Germany, Japan, the Republic of Korea, Sweden, United Kingdom, and the European Commission.
Importance
Demand for critical minerals, which are essential for clean energy and other technologies, is projected to expand significantly in the coming decades.
The MSP will help catalyse investment from governments and the private sector for strategic opportunities — across the full value chain — that adhere to the highest environmental, social, and governance standards.
Rare Earth Minerals in India
Rare earth comprises seventeen elements and are classified as light RE elements (LREE) and heavy RE elements (HREE).
Some RE are available in India such as Lanthanum, Cerium, Neodymium, Praseodymium and Samarium, while others such as Dysprosium, Terbium, Europium that are classified as HREE are not available in Indian deposits in extractable quantity.
Hence, there is a dependence on countries such as China for HREE, which is one of the leading producers of RE with an estimated 70 per cent of the global production.
What is India's major concern at this moment?
"If India is not able to explore and produce these minerals, it will have to depend on a handful of countries, including China, to power its energy transition plans to electric vehicles.
Industry watchers say that the reason India would not have found a place in the MSP grouping is because the country does not bring any expertise to the table. In the group, countries like Australia and Canada have reserves and also the technology to extract them, and countries like Japan have the technology to process REEs.
---
---
7 . Facts for Prelims
---
Counter-Terrorism Committee (CTC)  – India to host UNSC meet on counterterrorism 
The Counter-Terrorism Committee was established by Security Council resolution 1373 adopted unanimously on 28 September 2001 in the wake of the 9/11 terror attacks in the US. 
Function: Monitoring implementation of resolution 1373 which requested countries to implement a number of measures aimed at enhancing their legal and institutional ability to counter terrorist activities at home and around the world. 
This includes  

Taking steps to criminalize the financing of terrorism 
Freezing any funds related to persons involved in acts of terrorism 
Deny all forms of financial support for terrorist groups 
Suppress the provision of safe haven, sustenance or support for terrorists and 
Share information with other governments on any groups practicing or planning terrorist acts. 

The Committee monitors steps taken to cooperate with other governments in the investigation, detection, arrest, extradition and prosecution of those involved in terror acts and criminalizes active and passive assistance for terrorism. 
Yuang Wang 5
The 'Yuan Wang 5', a Chinese research and survey vessel, is en route to Hambantota, a strategically important deep-sea port developed mostly using loans from Beijing.
'Yuan Wang'-class ships are used to track satellite, rocket and intercontinental ballistic missile (ICBM) launches. China has around seven of these tracking ships that are capable of operating throughout the Pacific, Atlantic, and Indian oceans. The ships supplement Beijing's land-based tracking stations.